Los Angeles — The front of a Boeing 747 engine that broke apart shortly after takeoff had been damaged, investigators said Monday, and they were trying to determine whether a bird could have been pulled into the engine.
Witnesses on a state beach said they heard loud bangs and saw flames shooting from one engine before watching a large cone-shaped exhaust assembly and two other chunks of metal fell from the KLM Royal Dutch Airlines jet Sunday afternoon.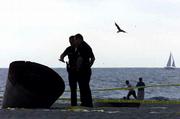 The four-engine jet, bound for Amsterdam, Netherlands, with 449 people aboard, circled over the ocean to dump fuel, then landed safely at the airport.
There were no injuries, and passengers applauded as the pilot set the plane down on the runway.
After inspectors looked over the jet Monday morning, National Transportation Safety Board investigator Richard Parker said a bird should not have caused the back of the engine to fall away. Inspectors also didn't see any feathers in the engine, he said.
"There could be a number of things, such as maybe a panel coming loose, or metal fatigue, or something else," he said.
But spokesmen for KLM and for the Federal Aviation Administration said they were still focusing on the possibility that a bird could have become caught in the engine.
Inspections showed the engine's intake cowling and fan blades were also damaged, said Doug Killian, a spokesman for Northwest Airlines, which has a partnership with KLM.
Earlier this month, the FAA ordered maintenance examinations for the same type of engine, manufactured by General Electric Co., focusing on a part called the compressor spool.
GE spokesman Rick Kennedy said a company field representative was on the scene but had not yet determined what happened to the engine, but he said a compressor spool was not involved.
"Drawing a correlation between the two is outrageously irresponsible," Kennedy said. He said a problem with the spool would result in engine failure, a different reaction than what happened to the KLM jet.
Air traffic controllers saw the exhaust cone fall and warned Flight 602's pilot, whose flight instruments were recording vibrations from the damaged engine, KLM spokesman Hugo Baas said.
Some passengers could hear and see signs of trouble from their seats.
"During takeoff there were several loud noises, like loud pops that shuddered quite a bit and I thought at the time, 'It's not a good sign. It's not a good way to start a flight,"' passenger Joane Slead told KCAL-TV.
The passengers spent Sunday night in hotels and were put on other flights Monday.
Copyright 2018 The Associated Press. All rights reserved. This material may not be published, broadcast, rewritten or redistributed. We strive to uphold our values for every story published.