Palm Desert, Calif. — Sergio Garcia finally found the secret to beating Tiger Woods play him at night.
Garcia outplayed Woods under the lights Monday night, stunning the world's best player 1-up as golf returned to prime time in the "Battle at Bighorn."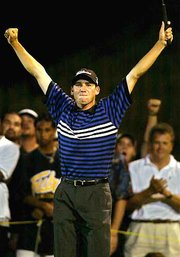 The win in the made-for-television event won't show up on any official lists, but it was worth $1.1 million and a ton of pride for Garcia, who has struggled this year while Woods dominated the sport, winning three majors.
Garcia made a 35-footer for birdie on the 16th hole to go ahead for good, and the tiring Woods could not answer on the final two holes.
Woods put it within 4 feet on the final hole for a possible birdie to tie, but Garcia sunk his 10-footer for a birdie of his own before Woods even had a chance.
"At least I gave Sergio a run for his money," Woods said. "He had to make some putts to earn it."
Woods flew across country earlier in the day and was fighting a cold or the flu after a streak of eight days that saw him win the PGA Championship and the NEC Invitational.
"I'm so cold. I'm freezing," Woods said to caddie Steve Williams as he waited to putt on the 17th hole on a warm night in the desert.
A day after Woods finished off the field in near darkness to win the NEC Invitational in Akron, Ohio, he and Garcia needed portable lights mounted on cranes to finish the final five holes at the Bighorn Gold Club.
And the darker it got, the better Garcia played.
Garcia made eight birdies, five on the back nine, against a pair of bogeys for what would have been a 66. Woods didn't make a bogey, but managed only five birdies, including the conceded putt on the final hole, for a 67.
"I was a little nervous on the first hole," Garcia said. "After that, I started calming down a little bit."
Garcia grew increasingly animated as he played nearly flawless down the stretch, while Woods appeared tired and trying to keep his focus in a surreal setting in the desert foothills.
The evening started well for Woods, who got out in front quickly as spectators began scrambling for position on an overcast but hot and humid late afternoon in the Santa Rosa foothills. Garcia missed the first green and made bogey after chipping past the pin, while Woods made a routine par.
But, with Woods making only one birdie on the front side, Garcia got back to even after a birdie on the eighth hole. They remained that way after a front nine in which neither played particularly well, both shooting 1-under 35s.
Woods flew to California after doing a corporate clinic in Ohio on Monday morning. Both he and Garcia went out before the televised match to play a few holes on the Canyons course at Bighorn.
"Another million," one fan yelled at Woods as he walked down the fairway.
Woods was clearly the attraction for an estimated 7,000 fans, who shouted out at him and ran from hole to hole to get prime viewing spots.
The players were driven in golf carts between many of the holes, and on several occasions Woods looked a bit nervous as his cart was forced to thread between throngs of fans to get to the next tee.
Between the third and fourth holes, Garcia hopped off his cart and tried to find his way through a swarm of fans to a restroom.
"He's in the porta potty to the left," one security guard barked to another on his radio.
As Garcia stood over a putt on the fourth hole, a cell phone rang. Both he and Woods also backed off shots after beginning their backswings when cameras went off next to the tee.
Unlike last year's inaugural event, which saw Woods beat No. 2 David Duval 2 and 1, Garcia was picked for the match despite not winning all year and holding the No. 15 ranking in the world.
Garcia got the nod because of the animated way he often plays, such as in the 1999 PGA Championship when he ran across the fairway and leaped in the air as he chased a shot on the final day.
But Garcia showed little emotion early, and he and Woods didn't share much conversation, despite wearing microphones for the television broadcast.
Woods won the NEC Invitational only the evening earlier, hitting an 8-iron to 2 feet in near darkness on the final hole to win by 11 shots. It was his eighth win in 16 PGA Tour events this year, five of them coming by at least four strokes.
Woods has also won four of the last five majors, beginning with the 1999 PGA in which he held Garcia off by a shot at Medinah Country Club.
Garcia, meanwhile, has struggled all year, winning only $554,313 compared to $7.7 million for Woods.
Copyright 2018 The Associated Press. All rights reserved. This material may not be published, broadcast, rewritten or redistributed. We strive to uphold our values for every story published.