Sunday's temperatures in Lawrence broke an area record, and meteorologists believe the "blast furnace" weather will continue through this week.
About 4 p.m., temperatures peaked in Lawrence at 109, shattering the previous record of 107 set in 1983. In Topeka, the heat soared to 108 degrees, breaking the record there as well. The worst, however, is expected to come today.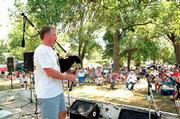 "(Monday) could very well be the hottest day yet," National Weather Service meteorologist Scott Whitmore said Sunday night. "I know that's hard to imagine. Tomorrow will be warmer in more areas. Some areas could reach 110. In some areas, people thought it was like a blast furnace. Wait until tomorrow, the wind will be blowing even more."
Although the temperature was high, the humidity was low, 19 percent, keeping the heat index close to the actual temperature at 110 degrees. Whitmore said this makes northeast Kansas days feel similar to the scorchers of last month.
"Back in July, the humidity was in the 70s and 80s and the temperature was only in the 90s, but we had heat indices around 110," he said.
Lawrence emergency workers and utility officials reported no heat-related problems on Sunday. A Lawrence Memorial Hospital nursing supervisor said there were no heat-related injuries or illnesses during the day.
The Lawrence-Douglas County Fire & Medical Department did not have to respond to any structure fires, thus avoiding the heavy and hot safety equipment. Utilities Department director Roger Coffey said the city would not be able to gauge the water use until this morning.
Whitmore said he feared the effects of the heat on area farms.
"It can dry a lot more out of crops and plants and bushes," he said. "Tempature-wise, it stresses animals and crops. It was really a dry day, taking a lot of moisture from the soil."
Today's temperature record is 106 degrees, set in 1984. According to the National Climatic Data Center, the hottest day recorded in Kansas history was July 24, 1936, when temperatures reached 121 degrees near Alton.
"Hopefully, this is the hottest we have for the rest of the year," Whitmore said. "It looks like temperatures will stay hot for the week but hopefully not as hot."
Copyright 2018 The Lawrence Journal-World. All rights reserved. This material may not be published, broadcast, rewritten or redistributed. We strive to uphold our values for every story published.