Restoration of the structure thought to be this historic town's first is helping draw visitors from far away to this quiet riverside setting famous for a bloody past.
"We've had quite a number of interesting visits by people who have made an effort to come to Lecompton," said Paul Bahnmaier, director of the Lecompton Historical Society.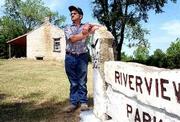 For example, a French couple driving across the United States stopped at only two places in Kansas Abilene and Lecompton. The pair were professors at the University of Capholique de l' Quest, in Anjers, France.
"One had taught 'American History of Bleeding Kansas' and had always wanted to visit Lecompton because it was mentioned quite extensively in their texts," Bahnmaier said.
Control of Lecompton was a contest between the state's early pro- and anti-slavery settlers. Their struggles were violent precursors to the Civil War.
Visitors are still drawn to the town, 10 miles northwest of Lawrence, by several remnants of the pre-Civil War past, including:
Constitution Hall: Built in 1856, the white, clapboard building served as an early meeting place for pro-slavery immigrants. It now is a state historic site and museum.
Lane University: Deeded by Lecompton to the territorial government in 1855, it was meant to be an elegant capitol for a pro-slavery state government. But only the basement and the stone foundation were completed before anti-slavery legislators gained control.
The unfinished capitol was deeded by Kansas in 1865 to Lane University, which closed in 1882. After decades as the town high school it was abandoned and then rescued by the historical society. It reopened as a museum in 1982.
Democratic Headquarters: Situated on a bluff with a scenic overlook of the Kansas River, the stone cabin is thought to be the surviving wing of a log house from the early 1850s that was home to William and Thomas Simmons, Indiana immigrants who operated a ferry.
Two years ago, Lecompton resident Pat Istas donated the dilapidated limestone building, to the Lecompton Historical Society.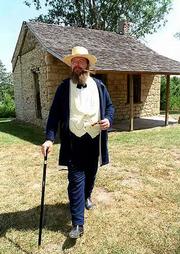 Tim Rues, Constitution Hall's curator, has researched the cabin.
Rues said the Democratic Headquarters received its name from Henry Worrall, a noted early Kansas illustrator, who sketched the building in 1877. The sketch accompanied an article written by George Washington Martin, owner of the Topeka Commonwealth newspaper.
"Martin's article was pretty accurate because as a young man he worked at the Territorial newspapers in Lecompton, and he was the one who identified the building," Rues said. "I think when Worrall sketched it, it probably was used by the (Kansas) Territorial Democratic party and the Democratic party of Douglas County."
During the last two years, Bahnmaier said the society has spent more than $12,000 to restore the building. A new shingle roof and front porch were added, and volunteers recently completed work on the chimney.
The group is now out of funds. The society receives some county money but mainly survives on donations.
"At some point, we would like to continue to point up the walls and eventually add the original log cabin," Bahnmaier said. "The cabin would complete the restoration of the building."
If successful, the society also would like to do living history programs there.
"We can tell the story of the historical territorial time period here without modern intrusions. We get people to believe they're actually in the territorial setting," said Edward Hoover, a member of the society. He performs as a re-enactor for some of the society's guided tours.
The community's effort to salvage the building is "a tribute to what a small town working together can accomplish and also to the loyalty of people who have lived in Lecompton and graduated from Lecompton High School," Bahnmaier said. "They maintain strong connections with the museum and the community."
Lecompton is located three miles north of Highway 40 on County Road 1029.Constitution Hall is open 10 a.m. to 5 p.m. Wednesdays through Saturdays, and 1 p.m. to 5 p.m. Sundays. Guided tours are available by calling (785) 887-6520.The Territorial Capitol-Lane Museum is open 11 a.m. to 4 p.m. Wednesdays through Saturdays, and 1 p.m. to 5 p.m. Sundays. Guided tours are available by calling (785) 887-6148.Lecompton resident Charlene Winter has been giving tours for 12 years. When possible, she said she also takes people to visit the Radical United Brethren Church and other historic areas in town in addition to the museums and Democratic Headquarters."If anyone is interested in history they go away very happy," Winter said. "It's so rewarding to see their eyes light up when they learn something."
Copyright 2018 The Lawrence Journal-World. All rights reserved. This material may not be published, broadcast, rewritten or redistributed. We strive to uphold our values for every story published.