On Aug. 21, 1863, Francis Griswold and three other men tried to surrender to William Quantrill's band of pro-Confederate guerrillas.
All four were shot in cold blood during the infamous raid on Lawrence, according to Randy Thies, archaeologist with the Kansas State Historical Society.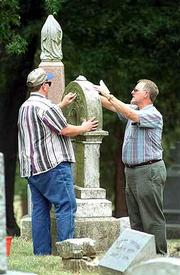 "They just walked out of their homes into their deaths," he said.
On Saturday at Oak Hill Cemetery, Griswold's tombstone and those marking the graves of nearly a dozen other victims of the infamous Quantrill's Raid got a good scrubbing.
Thies was one of eight members of the Old Abe Camp of the Sons of Union Veterans who spent the morning cleaning the tombstones. Sons of Union Veterans is a national organization and the Old Abe Camp is a Topeka chapter.
As a chapter project, the group visits cemeteries to clean tombstones of Union veterans. About 20 of those are in Oak Hill.
"I'm told some of these have been cleaned but certainly these look dirty," Thies said.
There's no quick way to clean tombstones, "just elbow grease and water," Thies said.
One marker that didn't need much cleaning was the large granite piece marking the mass grave of about 200 unidentified victims of Quantrill's Raid. They were burned beyond recognition, Thies said.
Thies thinks keeping tombstones from the Civil War era in good shape is another way to preserve history -- and Lawrence has so much history, he said.
A Civil War and Quantrill's Raid historian, Thies recognizes many names on the tombstones and often can tell stories about how they died.
"A cemetery like this is a repository of art, history and social relationships all wrapped up in one," he said. "It's just priceless, from my viewpoint.
"Cemeteries provide a physical way to connect with all these people," he said. "It's one thing to hear about this stuff, but to come here and touch these gravestones give you a connection."
Copyright 2018 The Lawrence Journal-World. All rights reserved. This material may not be published, broadcast, rewritten or redistributed. We strive to uphold our values for every story published.