Unextinguished smoking material set a Lawrence home on fire Saturday afternoon, displacing its three residents and causing $35,000 damage.
At 4:30 p.m., Lawrence-Douglas County Fire & Medical units responded to a fire call at 622 Ill.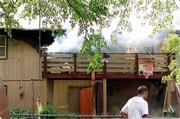 The fire apparently began outside on a deck and spread into the house.
"The rear deck is elevated off of the ground," Battalion Chief Jerry Karr said. "(A resident) had an overstuffed chair he smoked in where the fire began. It started on the exterior and got itself into the attic."
Smoke billowed from the house's eaves and attic as firefighters doused the fire inside the house.
Three fire engines and an ambulance blocked off the 600 block of Illinois Street, and the fire was brought under control within 15 minutes.
"We had no injuries," Karr said. "We just had to be careful of the heat with our firefighters. We even found (their) ferret."
With the extensive fire and smoke damage to the home, fire officials were forced to cut electricity and gas to the building, rendering it uninhabitable for the time being. Karr said the Red Cross is helping to find temporary housing for the three occupants.
Firefighters finished their investigation and cleared the scene at 7 p.m., reopening the street to through traffic.
Copyright 2018 The Lawrence Journal-World. All rights reserved. This material may not be published, broadcast, rewritten or redistributed. We strive to uphold our values for every story published.