Washington — Thirty-seven years later, the son of Martin Luther King Jr. stood where his father stood and repeated his father's challenge to the conscience of America: "I dare you to fulfill the dream."
This time it was a new grievance that brought tens of thousands Saturday to the foot of the Lincoln Memorial. This time racial profiling and police brutality were laid before the country as the inflaming issues.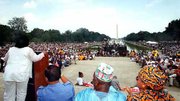 The gathering replicated the 1963 March on Washington, which brought more than a quarter-million protesters to demand that the government take note of the mistreatment of blacks at a time when many were denied the right to vote.
The Rev. Martin Luther King Jr., on the program as a secondary speaker, electrified the moment with his "I have a dream" speech.
Martin Luther King III, like his father, received second billing, this time to the Rev. Al Sharpton, the New York City civil rights activist.
"The day my father dreamed about has not yet been realized in our lending institutions, nor in our employment offices, nor even in our nation's courtrooms," King said. He asked President Clinton to issue an executive order outlawing racial profiling, the practice of stopping and questioning people on the basis of race.
"A black man can walk over a bridge, but he cannot drive over it without being stopped," King told a cheering crowd.
Sharpton challenged Vice President Al Gore and Texas Gov. George W. Bush to pledge their support.
"Both of you are running for president, but you can't run from us," he said. "If you want us, you have to come to us and address our concerns."
Sharpton said he and King had chosen the 37th anniversary of the elder King's speech because of the millennial election year and the need for immediate action. Sharpton said he would consider the event a success if the White House and Congress were motivated to outlaw racial profiling and combat police brutality.
Organizers for the "Redeem the Dream" event estimated the turnout at 100,000, but they had a permit for up to 30,000 people on the National Mall.
The crowd in front of the Lincoln Memorial sprawled down either side of the 440-yard-long reflecting pool for about half of its length toward the Washington Monument.
Many people at the event held banners and signs and struggled to hear the speakers over the roar of low-flying planes.
"We are tired of walking while black, getting arrested for breathing while black and living while black," said NAACP President Kweisi Mfume. "We want equal justice.
"No justice, no peace!" Mfume concluded to cheers and applause.
Victims of police brutality addressed the crowd, including Abner Louima, a Haitian immigrant who in 1997 was brutalized with a broken broomstick in a New York police station.
"We (are) tired of being judged for our skin color. We want to be judged for our hearts only," Louima said, adding that elected officials become blind to racial problems once they're in office.
Also speaking were Kadiatou and Saikou Diallo, parents of Amadou Diallo, an immigrant from Guinea in West Africa. He was shot 19 times in 1999 in the vestibule of his apartment building by New York police officers who said they feared he was reaching for a gun. The only object found was his wallet.
Coretta Scott King, wife of the slain leader, and other principals from the 1963 march also spoke.
While people came from around the country to the event, most of them arrived on buses from towns and cities along the East Coast.
Vicki Hubbard, 47, a music teacher from Lynchburg, Va., came with her church group to hear her pastor speak at the event.
"Most of us were either too young or not even born when they held the first march," she said. "We wanted to come and be part of the cause and part of history."
King reminded the crowd that his father's dream was that his children would be judged not by the color of their skin but by the content of their character.
"As one of those four little children," he said, "I must remind you that that one day, sadly, is not today."
Copyright 2018 The Associated Press. All rights reserved. This material may not be published, broadcast, rewritten or redistributed. We strive to uphold our values for every story published.