An unexpected decline in Lawrence public school enrollment could cost the district hundreds of thousands of dollars in state aid, Interim Supt. Randy Weseman said Friday.
The 149-student enrollment dip recorded on the first day of classes might foretell budget problems for a district already grappling with the bottom line. State funding is based on a complex formula that provides districts with $3,820 in base aid for every full-time equivalent student.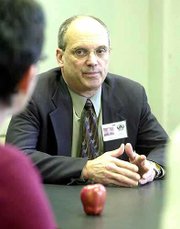 "That's significant money," Weseman said. "I'm not only worried, I'm unhappy. We've never been off this many."
The Lawrence school board this month adopted a 2000-2001 budget based on a projected enrollment increase of 100 students.
"If they anticipated an increase, and don't receive an increase, then their budget would be reduced," said Dale Dennis, deputy commissioner in the Kansas Department of Education.
The situation will become clearer after the state records official enrollment Sept. 20. That number, not the first-day figure, is used in school-finance formulas.
If the district's enrollment decline holds up, Lawrence could turn to a safety valve enacted by the Legislature to protect Kansas districts with declining enrollment. Districts with dwindling student populations have the option of receiving state aid at the same level as the previous year.
"That's really helpful," Dennis said. "Even if they go 150 below last year, they'd be funded on last year's enrollment."
Assuming that is the case, the district would miss out on $380,000 in state aid that would have been tied to the 100 new students.
Weseman said the district would conduct another headcount Monday to determine if the first-day tally was flawed.
If history is a guide, he said, the district's official enrollment in September will be less than the 10,362 total recorded on the first day of classes Monday.
"We're pretty much at the mercy of demographics," Weseman said.
Copyright 2018 The Lawrence Journal-World. All rights reserved. This material may not be published, broadcast, rewritten or redistributed. We strive to uphold our values for every story published.