A stellar cast and a winning story make "The Last of the Blonde Bombshells" (8 p.m., Saturday, HBO, TV-PG) one of the more charming cable offerings of this lean summer season. Judi Dench ("Shakespeare in Love") stars as Elizabeth, a British woman who has just buried her faithful husband of 50 safe, predictable and boring years. Now alone, she begins to reminisce about the war years when she played a mean saxophone in an (almost) all-girl band called The Blonde Bombshells.
A chance encounter with Patrick (Ian Holm), the band's male drummer and resident Lothario, only intensifies her longing for the good old days, which are colorfully recalled in many wartime flashbacks and musical interludes. Her stodgy children begin to worry when their mom starts playing the sax with a street corner musician and begins spending too much time with that cad, Patrick. Inspired by her granddaughter, Elizabeth and Patrick go about looking for their old bandmates, only to find that they have been scattered to the four winds, and can be found in hospitals, prison, and the grave. Eventually, they reunite the still-surviving Bombshells (played with gusto by Olympia Dukakis ("Moonstruck"), Leslie Caron ("Gigi"), singer Cleo Laine and June Whitfield ("Absolutely Fabulous") for a rousing finale. Smartly written and unabashedly heartwarming, "Bombshells" is also a great showcase for Laine's remarkable singing voice. In addition to casting two Oscar winners (Dench and Dukakis), "Bombshell" may be the only TV movie this year to feature two Dames (Dame Judi Dench and Dame Cleo Laine) and a Sir (Sir Ian Holm).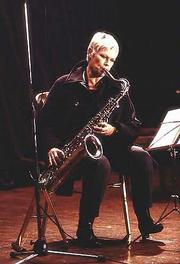 Daria, TV's most sardonic animated teen, gets her own original movie, "Daria: Is It Fall Yet?" (6 p.m., Sunday, MTV). As usual, this "Daria" feature does a great job of exploring high school's many cliques and the cruel caste system that separates teens on the basis of looks, brains and their parents' bank accounts. And it's so much smarter and funnier than anything found on live-action, over-the-top teen dramas like "Popular."
As summer begins, the above-it-all Daria is faced with an empty social life and the departure of her best friend, Jane, for a funky artist colony. Jane leaves in a bit of a huff because Daria is now seeing (she won't call it dating) Jane's old flame, Tom, who comes from Lawndale's ultra-rich country club set. To Daria's horror, her mother "volunteers" her to work at a camp for sensitive children ("The It's-OK-to-Cry Corral") while her ditzy younger sister, Quinn, is tutored by a brainiac named Sorenson (the voice of Carson Daly).
Some of the movie's best moments are spent lampooning the pretensions and sexual politics of Ashland, Jane's down-at-the-heels artists' colony. Other guest voices include Dave Grohl as Jane's art teacher and Bif Naked as Jane's art colony sidekick who wants to be more than a friend.
Saturday's highlights
Four perfect-looking teens volunteer on an ambulance squad in the new series, "In a Heartbeat" (6 p.m., Disney). "Boy Meets World" meets "Third Watch" with a dash of "Doogie Howser."
A boy and his whale, together again, in the 1995 sequel, "Free Willy 2: The Adventure Home" (7 p.m., NBC, TV-PG).
Florida State takes on BYU as the college football season commences (7 p.m., ABC).
Joan and Melissa Rivers critique the candidates, conventions and the campaign on their clothes and accessories on the "Political Fashion Review" (7 p.m., E!, TV-PG).
Brian McFayden (MTV News) hosts the 18th Annual Miss Teen USA Pageant (8 p.m., CBS, TV-G). With musical performances by 98 Degrees and Westlife.
Sunday's highlights
Scheduled on "60 Minutes" (6 p.m., CBS): repeat reports on the crumbling Russian army; animal organs for human transplant; a profile of Eric Clapton.
Scheduled on "Dateline" (6 p.m., NBC): a deadlocked jury's controversial decision.
A buttoned-down dad (Phil Hartman) hides a loan shark (Sinbad) on the lam in the 1995 comedy, "Houseguest" on "The Wonderful World of Disney" (6 p.m., ABC, TV-PG).
Liam Neeson and Jessica Lange star in the 1995 Scottish history epic, "Rob Roy" (7 p.m., NBC, TV-14).
Nearly 500 miles north of the Arctic Circle, scientists unearth a prehistoric pachyderm completely intact in the repeat documentary, "Raising the Mammoth" (7 p.m., Discovery, TV-G).
Judy Davis stars in the 1998 TV drama, "The Echo of Thunder" (8 p.m., CBS, TV-G), filmed on location in Australia.
Verdi's opera "La Traviata" is performed in Paris locations on "Great Performances" (8 p.m., PBS, check local listings, TV-G).
A hitman (William H. Macy) undergoes a midlife crisis in the 2000 drama, "Panic" (9 p.m., Cinemax), featuring Neve Campbell, Tracey Ullman, John Ritter, Barbara Bain and Donald Sutherland.
Copyright 2018 The Lawrence Journal-World. All rights reserved. This material may not be published, broadcast, rewritten or redistributed. We strive to uphold our values for every story published.