The Rev. Gregory Gray knows how to minister to those who have lost their way, because he's been down that path himself.
"Everything wrong I've done it at least twice. But there's no shame in my game. I'm no longer ashamed of my past, because the Lord has forgiven me for my sins," he says.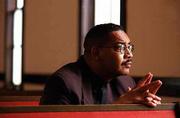 Gray who the week before Easter was appointed pastor of St. James African Methodist Episcopal Church, Seventh and Maple grew up around gangs, drugs and alcohol in a rough neighborhood in Rockford, Ill.
He ran around with the Black Panthers and a gang called the Black Stone Rangers. He was no stranger to finding trouble.
"I used drugs a lot of my life, got caught up in the Superfly era around 1972. Gangs and hustling and the whole gamut," Gray says.
He credits the Rev. William Collins of Rockford's Catholic diocese with taking him under his wing and pulling him out of that world.
The other person who strengthened his faith and straightened him up was his mother, Bernice Aretha Gray, who was raising five children by herself.
"My mother's attitude was that if you keep your head up in prayer, everything will work out all right. God put my mother and Father Collins in my life, and I know that saved me," Gray says.
These days he puts his early experiences to work in his full-time job as a chaplain for the Federal Bureau of Prisons, which is part of the U.S. Department of Justice.
The 50-year-old is a substance abuse therapist and crisis intervention specialist at Dismas House of Kansas City Inc., Kansas City, Mo.
The facility named for the repentant criminal who was crucified beside Jesus is a federally funded, residential halfway house that serves men and women who have been released from federal prisons, are awaiting trial, or have been referred directly by the courts to alternatives to prison.
Candidates for Dismas House are first screened by a committee to decide if that setting is an appropriate place for them.
Sixty men and 30 women live in the halfway house. The facility also offers ongoing after-care services for former residents who are having problems maintaining stability in their lives.
"I see myself in the lost people. I see the loneliness that I felt. I tell them, 'I'm just a reflection of you.'"
the Rev. Gregory Gray, chaplain at Dismas House of Kansas City Inc.
Residents leave Dismas House in the day to work at jobs in the community, then return in the evening. The typical length of stay at the facility is about 120 days.
Seeing himself
His own experiences growing up on the rough side of town in Rockford help Gray empathize with those he counsels.
"I see myself in the lost people. I see the loneliness that I felt. I tell them, 'I'm just a reflection of you,'" he says.
Gray, who has worked in the counseling field since 1976, is also trained to work with his clients in anger control management and family therapy.
He has worked at Dismas House since 1991. The facility has six counselors and three case managers.
Gray earned a theology degree from the Slidell Baptist Seminary in Slidell, La., and entered the ministry in 1982.
He and his wife, Cynthia, have been married 14 years and live in Kansas City, Kan.
Gray was preceded in the pulpit at St. James by the Rev. Ed Taylor, a longtime pastor and community activist who died in January.
Taylor had befriended Gray years earlier, when Gray was a young pastor.
More recently, when Taylor was battling cancer, he asked Gray to step in and temporarily serve as pastor at St. James.
After Taylor died, Gray was appointed to the position permanently.
Here and there
Four days each week, after Gray finishes work at Dismas House, he drives to Lawrence to pastor to members of St. James.
On Saturdays, he and church members do maintenance work around the building. On Sundays, which he has off from Dismas House, he leads worship services. On Mondays, he does youth counseling at the church, and on Thursdays he leads a Bible study group.
"There's not enough time in the day. Sometimes I'm there (Dismas House) from 8 in the morning to 10 at night. And the nights that I'm off, I'm here at St. James," he says.
Gray identifies closely with the Dismas House residents he counsels, and when they stumble, it hurts.
Some residents grow anxious as the time they have to live in the halfway house nears an end. While they're out at their day jobs, they relapse with drugs or alcohol. That's a parole violation, and they can be sent to prison to serve more time.
"When you work with somebody, and they go out (to their job) and come back and they've used drugs a week before they're supposed to leave here oh man, it breaks your heart," Gray says.
"When they go back to prison, a part of me goes, too."
Copyright 2018 The Lawrence Journal-World. All rights reserved. This material may not be published, broadcast, rewritten or redistributed. We strive to uphold our values for every story published.