Quail Run School staff rejoiced Thursday upon confirmation of a 120-student enrollment decline.
That kind of jaw-dropping shift would evoke panic among many school principals. But in this case, Paulette Strong knew the school needed a roster cut.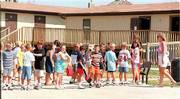 "There is a significant difference in the feeling of the building," said Strong, new principal at Quail Run.
Though Quail Run's decline was by design the $6.7 million Langston Hughes School opened this fall to absorb the student surplus first-day enrollment figures across the Lawrence school district showed a surprising dip. A small increase had been forecast.
The district reported overall enrollment on the first full day of classes Monday was down 1.5 percent from a year ago. The tally was 10,362, a decline of 149 students. Last year, there was a first-day increase of 109 students.
An increase of about 1 percent had been forecast. The official headcount will be taken in September.
High school enrollment decreased by one student to 2,498, but the gap between Free State High School and Lawrence High School widened. LHS added 32 students for a total of 1,327, while Free State declined 33 to 1,171.
Enrollment at the four junior high schools climbed by six students to 2,466. The schools ranged in size from 576 at Central Junior High School to 648 at Southwest Junior High School.
Total enrollment among elementary students fell 154 to 5,398. A dozen schools led by Quail Run had fewer students. Six schools had more.
Even with a substantial decline, Quail Run tied Deerfield School as the district's largest elementary schools, with 501 students each.
Schwegler and Sunflower schools both fell below 500 students. While reasons for Schwegler's 32-student drop were unclear, Sunflower's 93-student drop was by design of the school board.
Sunflower Principal Jill Smith said the board's decision to transfer about 80 students to Broken Arrow School permitted her to designate a classroom trailer for orchestra practices and set aside rooms for special reading and math teachers.
"Now we have space they can work quietly with students," she said.
The board's attempt to bolster enrollment at Broken Arrow didn't work. The school's headcount climbed by two students to 257.
"I'm surprised by the fact that it really didn't make any change in our enrollment," said Broken Arrow Principal Larry Bakerink. "If this is the wave of the future, we still have a declining enrollment issue at Broken Arrow."
Prairie Park School had the only double-digit increase among elementary schools. The addition of 20 students pushed the school's total to 440.
But things worked just fine at Quail Run.
After enduring a year with 621 students stuffed into every conceivable space, the difference this year is noticeable.
"Staff feel that there's space to meet privately with children when they need to," Strong said.
Copyright 2018 The Lawrence Journal-World. All rights reserved. This material may not be published, broadcast, rewritten or redistributed. We strive to uphold our values for every story published.