Lawrence's own set of currency is about to hit the streets, and businesses already are preparing to accept the new bills.
REAL money that stands for Realizing Economic Alternatives in Lawrence began circulating this week in town as $3 bills, featuring a portrait of William Burroughs, the late author and Lawrence resident.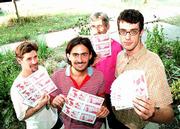 Members of the Lawrence Trade Organization, which printed 10,000 of the bills, plan to spend the next couple weeks recruiting businesses and individuals to join the program, which is intended to help support Lawrence businesses and worthy organizations.
It all starts with people trading their hard-earned dollars for REAL money, and then finding enough businesses willing to accept the alternative currency as payment for goods or services.
"We'll see if it works," said Dennis "Boog" Highberger, the organization's attorney and resident agent.
Two businesses already have agreed to sign on.
Amazing Grains, a bakery at 518 E. Eighth, and Lawrence attorney Bruce Plenk said Wednesday that they would accept the money. Details haven't been worked out, but officials at both places recognize the value of keeping money in town.
"I'm excited about it," said Plenk, who handles tenant, consumer and environmental cases. "It's like recycling money and services. I don't have any need to send money off to Arkansas, or wherever the Wal-Mart money goes. I'd actually prefer that my money go to other businesses that are local.
"I figure the places that are going to take the money are going to be places that support local businesses, like me. Those people are on the same wavelength."
Here's how it will work:
The trade organization has printed the $3 bills, which it exchanges with people and businesses for an equal number of U.S. dollars. The $3 bills and, later, $1 and $10 bills will be redeemable among participating businesses.
Participants will be listed in a business directory and on the organization's soon-to-be started Web site, www.lto .lawrence.ks.us. Participants must agree to accept alternative dollars for transactions at a rate of 20 percent of the purchase price or $20, whichever is less.
Participants unable to spend alternative dollars could redeem them for U.S. money at 90 percent of face value, with a limit of $500 of alternative money redeemed in one year.
The U.S. dollars generated by the program will be deposited in an account at a local credit union, to earn interest and be used to support local businesses and possibly even to back no-interest loans for program participants.
As the alternative currency circulates shoppers use it to buy goods and services; businesses can use it for supplies it continuously adds to the economic base instead of being shipped away.
While a U.S. dollar typically changes hands four times in a community before leaving, a REAL dollar by definition must stay home.
"We will have tens of thousands of dollars that we'll be able to put to work for free, essentially," Highberger said. "We've doubled the amount of money in the community."
At least 60 such programs are operating across the country, all with intentions of supporting local businesses and services. For many of them, a $5 entry fee buys new currency worth roughly $30, and the fee revenues then finance publication of a business directory and printing of the new bills.
In Lawrence, however, Highberger wants to use the expected thousands of U.S. dollars to finance projects, such as purchasing "land threatened by development," he said.
"That's a real possibility in the future."
But for now, organization members are concentrating on selling the new bills and finding receptive businesses. On Wednesday they mailed informational brochures to 100 downtown businesses.
The organization has scheduled a public forum to discuss the project for 1 p.m. Sept. 9 at the Lawrence Public Library, 707 Vt.
Copyright 2018 The Lawrence Journal-World. All rights reserved. This material may not be published, broadcast, rewritten or redistributed. We strive to uphold our values for every story published.