As heat indices rise, cardiovascular fitness decreases.
Darned right that simple formula has Kansas University football coach Terry Allen worried as the Jayhawks careen toward their season opener against SMU a week from Saturday in sure-to-be-sultry Dallas.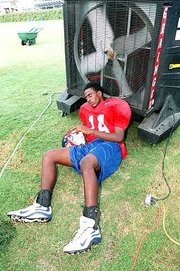 "Is that a concern?" Allen asked Wednesday after the final practice of two-a-days. "Yeah, it's a concern. It's that old catch-22. If you condition too much, you're not conditioned for the heat."
Heat took a toll on the Jayhawks during two-a-days. Allen estimated 12-15 players missed at least a practice with heat-related distress, and 10 of those suffered the dreaded full-body cramp.
"But the last one," Allen said, "was Tim Bowers the day before yesterday. When we get into single-day practices, we shouldn't have that problem."
The dangerous heat has forced Allen to cut some practices short. The Jayhawks eschewed full pads for shorts and shoulder pads for several afternoon practices.
And Allen hasn't been able to run the troops as much as he had liked.
"If we don't get a break from the heat, we may have to run them some inside in the air conditioning during game week," Allen said. "We normally don't do conditioning during game week, but we have to do something."
Allen's conditioning fears were eased a bit Wednesday.
"Even with the heat, we did some cardio work, and we were OK," he said. "We're not at maximum lung capacity or anything like that, but we're not as bad as I thought (Tuesday)."
Most of the Jayhawks aren't concerned about being gassed next Saturday.
"We're in real good shape, but the heat takes its toll," said KU senior tight end Jason Gulley, one of the unfortunate ones who suffered a full-body cramp. "We have a great summer conditioning program. You have to be in shape before you get here. Two-a-days aren't for getting in shape, they're for getting ready to play football."
But senior fullback Moran Norris, a native of balmy Houston, isn't sure what to make of the Jayhawks' cardiovascular fitness.
"I feel we're in shape," he said, "but it's so hot you can't really tell. There's a shortage of air, like Colorado, that makes it hard to tell. But we've been doing this for a week-and-a-half, twice a day every day. We'll be OK."
Kansas will cut back to single practices today.
"From a coach's perspective, you'd like to have two-a-days forever," Allen said. "But also it's nice not to be in the heat five hours a day. The players seem to have a better mental attitude at the end of two-a-days."
Does Allen feel comfortable with his team's readiness after two-a-days?
"Comfortable?" Allen asked. "That's a tough term. We're farther along offensively than we were a year ago, but defensively we're doing a lot of different things. The defense is physically ready, but mentally we aren't quite there."
Freshmen impressions:
Allen said there were a few freshman who might not red-shirt this season.
"There are a couple we're considering not (red-shirting)," Allen said. "None of the linemen (will play), but the defensive backs, maybe a receiver. Then again, maybe even the quarterbacks."
Standouts:
Allen singled out juco defensive lineman Ervin Holloman and senior outside linebacker Chaz Murphy for strong preseason camps.
"I really like Ervin," Allen said. "Chaz had a particularly good preseason. Most of the others are living up to expectations. Holloman is big and strong and runs really well. An inside defensive lineman who can rush the quarterback that's good."
Allen said he liked the competition that has developed at cornerback between returning Quincy Roe and juco newcomer Jamarei Bryant.
"(Bryant) is competing in there," Allen said. "Quincy's still maintaining the starting position, but Jamarei's putting a lot of pressure on him. Quincy's playing better because of that."
Nesmith on list:
KU senior safety Carl Nesmith was on the 40-player 2000 Jim Thorpe Award Watch List. The Thorpe Award is presented to the best defensive back in college football at the end of the season.
Copyright 2018 The Lawrence Journal-World. All rights reserved. This material may not be published, broadcast, rewritten or redistributed. We strive to uphold our values for every story published.