Appreciation for the colder things in life is a uniquely American trait. As with iced tea, iced coffee is pretty much of a no-go outside the United States (as are, world travelers know, cold beer, cold water and cold soda). And truth be told, coffee aficionados tend to look down their noses at iced coffee.
According to Kevin Knox, vice president and coffee buyer for Allegro Coffee and the co-author, with Julie Sheldon Huffaker, of "Coffee Basics" (John Wiley & Sons, $17.95), "Fine coffee is really best consumed hot. We Americans tend to forget that ice anesthetizes the taste buds."
Confronted with the overwhelming popularity of such beverages as Starbucks Frappuccino and Dunkin' Donuts' Coffee Coolata, Knox opined that "a lot of what is considered the coffee revolution is really the milk revolution. These are really sweet coffee-flavored milk drinks."
Happily, coffee-flavored milk drinks can be really delicious, which even Knox conceded. And he noted that in Southeast Asia virtually the only other place on earth with an iced-coffee tradition coffee-flavored milk drinks have been raised to high culinary art.
In Vietnam and Thailand, all the iced-coffee conditions were right: A colonial population (the French) that drank good coffee, a hot climate that made a hot cup of joe less than appealing, a spicy cuisine that demanded liquid relief and, ironically, a lack of fresh dairy products.
"In such a tropical climate, canned, sweetened condensed milk was the only dairy product that was shelf-stable," Knox said. He characterized the use of sweetened condensed milk to sweeten and lighten coffee as "a brilliant invention," not only because it's so tasty, but because "sweet dairy foods have a great way of cutting the heat of spicy food."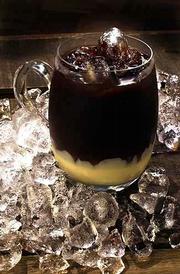 Whereas the Vietnamese traditionally brew French roast coffee in individual drip filters, Thai coffee "is a completely different animal," according to Mai Pham, a Southeast Asian cooking instructor, restaurateur and author of "The Best of Vietnamese and Thai Cooking" (Prima Publishing, $19.95). In Thailand, said Pham, coffee is traditionally blended with roasted corn before being ground, in much the same way as New Orleans coffee is blended with chicory. As for the method, she continued, "Thai coffee is made like cowboy coffee boiled and then strained."
Southeast Asian iced coffees make a wonderful finale to spicy meals, or the centerpiece of a midday treat. But to get oneself going in the morning, a less elaborate cold coffee drink will do the trick, too. As with tea, some coffees fare better over ice than others. According to Kevin Knox, African coffees say from Kenya, Ethiopia or Yemen have "an inherent fruitiness that is refreshing over ice."
Knox also mentioned his admiration for a nifty iced-coffee-making contraption, available to consumers at coffee specialty stores and via mail order, made by the Houston-based Toddy Products. The Toddy Coffee Maker is a simple carafe-and-filter device in which a pound of coffee is steeped in nine cups of cold water. After 12 hours, the resultant "concentrate" can either be diluted with boiling water to make hot coffee, or poured over ice. (More information and instructions for ordering the $30 item can be found at www.toddyproducts.com.)
In the end, you can hardly go wrong with this basic method for making American-style iced coffee: Brew good-quality coffee extra strong (Knox recommends using 50 percent more than usual), add any sugar while the brew is hot, then cool it down in the refrigerator and serve over ice.
For iced-coffee lovers with both the need for extra caffeine and the ability to plan even further ahead, freeze cooled coffee in ice-cube trays. Then you can sip your iced coffee with the knowledge that no matter how slowly you drink, your iced coffee won't lose an ounce of oomph.
---
Iced Coffee
1/3 cup ground Thai coffee or chicory coffee
4 cups water
2/3 cup sugar
Ice, preferably crushed
Combine the coffee, water and sugar in a medium saucepan and bring to a boil. Reduce heat and simmer for 20 minutes. Remove from heat and strain into a small pitcher. Allow to cool completely before serving. Refrigerate for 1 hour.
To serve, pack tall glasses with ice and pour chilled coffee over. Makes 4 to 6 servings.
Recipe from "The Best of Vietnamese and Thai Cooking," by Mai Pham.
---
Vietnamese Iced Coffee
4 tablespoons sweetened condensed milk
1/3 cup dark French roast coffee, medium grind
2 cups boiling water
Ice
Pour 2 tablespoons of the condensed milk into each of two mugs, making sure milk doesn't stick to the sides. Put filters on top of mugs. Place half of coffee into each filter. Bring water to boil and pour 1 tablespoon of boiling water into each filter, waiting 30 seconds for the coffee grounds to expand. Then fill each filter with equal portions of remaining boiling water and let coffee slowly drip through to mug.
When ready to serve, stir condensed milk and coffee together and pour into glasses filled with ice. Makes 2 servings.
Recipe from "The Best of Vietnamese and Thai Cooking."
---
Cold Cappuccino
1/2 cup fresh espresso or double-strength coffee
1 1/2 cups low-fat (2 percent) milk
1/4 cup granulated sugar
1 tablespoon dry pectin (see note)
2 cups ice
Combine all of the ingredients except ice in a pitcher or covered container. Stir or shake until sugar is dissolved. Chill.
Pour chilled mixture and ice into a blender and pur Serve immediately.
Note: Pectin is a natural thickener found in the supermarket near the canning supplies. It is used in this recipe to make the drink thicker and creamier but it can be excluded without affecting the flavor.
Variation: To make a mocha version, add a good pinch of cocoa powder to the mixture before combining all the ingredients.
Recipe adapted from www.topsecretrecipes.com.
---
Iced Green Mint Tea
1/4 cup loose green tea or 4 tea bags
4 sprigs fresh mint plus more for garnish
Sugar to taste (optional)
Heat 2 cups water to almost boiling. Place tea and mint in a heatproof container and pour water over. Steep for 3 minutes, then strain out tea and mint. Add optional sugar, stirring to dissolve, then add enough cold water or ice to make 4 cups. When cool, serve over ice. Makes 4 servings.
Copyright 2018 The Lawrence Journal-World. All rights reserved. This material may not be published, broadcast, rewritten or redistributed. We strive to uphold our values for every story published.