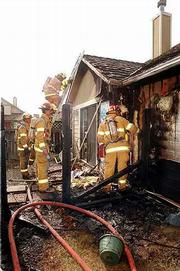 A fire Tuesday charred the side of a South Lawrence home, displacing the residents and damaging the attic space of the building.
Fire Battalion Chief Bill Stark said that a cigarette caused the fire that burned the exterior walls and roof at 2214 Breckenridge Drive.
"The investigators told me it was a discarded cigarette outside that lit off some kind of wood material," Stark said. "It might have been mulch or something."
About 4:30 p.m. Tuesday, Kristine Gregory was in her townhouse when something caught her eye outside the window.
"I saw what I thought was leaves passing by the window. Then I saw the leaves were black and the patio was on fire," she said. "A neighbor called 911 for me as I was running to get the hose."
Lawrence-Douglas County Fire & Medical trucks arrived quickly to find the fence and outside wall of the house in flames.
"At this point we don't believe the fire extended inside," Battalion Chief Rob Kort said.
No one was injured in the fire.
After quickly extinguishing the flames, firefighters inspected the roof and eaves of the duplex to see if the fire had moved into the attic.
"This building has a common attic," Kort said. "There's no fire break between the homes, so if fire extends into the attic, it will spread into the other home."
Stark said the damage was estimated at $10,000, with fire damage primarily on the roof and interior attic area. Some smoke infiltrated the second floor of the home and did a limited amount of damage.
The fire department's occupant services and Red Cross workers helped Gregory and her roommates find other housing.
Copyright 2018 The Lawrence Journal-World. All rights reserved. This material may not be published, broadcast, rewritten or redistributed. We strive to uphold our values for every story published.