Local historians made a case Sunday afternoon that, if accepted by academics nationwide, would make Douglas County the birthplace of the Civil War, not Fort Sumter.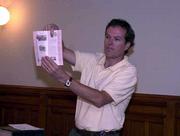 Speaking to an audience of more than 50 in the basement of the Watkins Community Museum, 1041 Mass., Lawrence and Lecompton's leading historians described the political and social atmosphere of "Bleeding Kansas" in the 1850s.
It was Stephen Douglas' Kansas-Nebraska Act that brought settlers west into the Kansas Territory. Abolitionist New Englanders came to the Free State city of Lawrence. Pro-Slavery Missourians settled Lecompton and other parts of the county, both hoping to make the state take their position on slavery.
"The West represented the ladder of mobility," Steve Jansen, director of the Watkins Museum, said. "The South believed if it didn't have access to the cheap land of the West, slavery would turn in on itself."
The pro-slavery forces won, setting up a legislature in Lecompton and drafting statutes.
"If you helped slaves escape or started a slave riot, the punishment was capital," said Tim Rues, curator of Lecompton's Constitution Hall. "At one time in Kansas, you had a legal government passing laws and writing constitutions in Lecompton, and the illegal government passing laws in Topeka and Lawrence."
By November of 1855, Lawrence was under siege and the Wakarusa War between Free Staters and pro-slavery forces had begun.
"When people visit Constitution Hall from out-of-state, I think it's a real revelation, what was going on out here," Rues said. "It wasn't until 1861 that the rest of the country got involved."
Paul Bahnmaier of the Lecompton Historical Society said he wishes more Americans understood the significance of the county.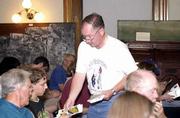 "Going back to the Wizard of Oz, people have the wrong idea about Kansas," he said. "There is so much here in Kansas to promote. We need to do a better job of promoting the state. I think what Roy Williams (Kansas University men's basketball coach) did this summer is the greatest thing to happen for the image of the state since Kansas became a state."
Jansen agreed with him.
"I do think we wrestle in Kansas with our self-image. I do think this (Williams' decision to stay at Kansas University) was an important act this summer," Jansen said. "In the minds of the national press, it was a no-brainer, why would anyone stay in Kansas? We have to believe in our own history, because we are not going to get validation nationally."
Copyright 2018 The Lawrence Journal-World. All rights reserved. This material may not be published, broadcast, rewritten or redistributed. We strive to uphold our values for every story published.