Louisville, Ky. — Tiger Woods is right where everyone expected him to be after three rounds of the PGA Championship in the lead and on the verge of joining Ben Hogan as the only players to win three professional majors in one year.
Only this is hardly a sequel to his romps in the U.S. Open and British Open.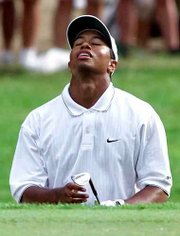 This time, he'll have to go the distance.
Just when it seemed as though Woods would take all the drama out of another major, a shocking series of blunders brought him back to the pack Saturday and left him clinging to a one-stroke lead over Bob May and Scott Dunlap.
"A lot of players up there will make it more of a challenge and a lot more fun," Woods said after surviving with a 2-under 70 to finish 54 holes at Valhalla at 13-under 203.
A dozen players were within six strokes of the lead going into today's final round. Woods has led by at least that many shots in the past two majors.
"He's close, and that's better than where he has been," Stuart Appleby said.
They have Woods to thank for that. He missed a 2-foot putt on No. 12 for his first double bogey in 153 holes of major championship golf. He hit a 6-iron about 30 yards left of the 15th green for another bogey.
He survived, and two rocket launches with his 3-wood got him to the par-5 18th green in two. He two-putted from 40 feet for birdie, enabling Woods to lead for the sixth consecutive round in a major.
"I'm telling you, to shoot 70 as poorly as I struck the golf ball, that was pretty good," Woods said. "To have a one-stroke lead is kind of a bonus."
It was his 14th consecutive major round at par or better, but it was nowhere near the kind of score available on a record-setting day at Valhalla. Twenty-four players broke 70, and Jose Maria Olazabal tied a major championship record with a 9-under 63.
J.P. Hayes had a 68 and was at 205, while Greg Chalmers had a 66 and was another stroke back. Olazabal's record-tying 63 put him in a group at 207 with Stuart Appleby and Thomas Bjorn.
This one still could be a runaway.
May and Dunlap hardly have the experience so often required in the final round of a major.
Dunlap has made as many cuts four as Woods has won majors. He was just as curious as everyone else to see how he would hold up against the No. 1 player in the world, and Dunlap acquitted himself nicely.
"I figured I'd have two tests to pass," he said. "The one today ... am I going to go falling by the wayside, or am I going to hopefully have enough guts to stand in there and go toe-to-toe. I passed that test.
"Tomorrow is a whole new test. But getting through this one was pretty big."
May finally earned his PGA Tour card in November after four years on the European tour. The 31-year-old from Las Vegas is playing in his first PGA Championship, and would love to become the first rookie to win the Wanamaker Trophy since John Daly in 1991.
He found everyone in the gallery cheering for Davis Love III, his playing partner in the third round. Imagine what he's going to experience playing in the final group with Woods.
"Everyone is asking how I'm going to feel playing with Tiger," May said. "It's going to be fun, and it's going to be a learning experience. There's not a whole bunch of pressure on me. I'm not supposed to win. He is."
Woods was supposed to win it Saturday.
After all, he effectively turned the U.S. Open and the British Open into 54-hole events. He led by 10 shots after 54 holes at Pebble Beach, and by six shots at St. Andrews in cruising to the career Grand Slam.
The sequel got spliced on the back nine at Valhalla.
With a three-stroke lead on the 12th tee, coming off birdies on three of his last five holes, Woods hit his drive into the trees, came up short of the green and chipped to 15 feet. The first one ran by the left edge. Then, he missed from 2 feet for his first double bogey since the third hole of the third round at Pebble Beach.
Dunlap, who had missed four straight birdie putts from inside 12 feet, finally got one to fall for a three-shot swing that tied him with Woods.
"I felt like I got let off the hook," Dunlap said.
Dunlap dropped a shot when he failed to save par from the bunker on No. 14 Woods, also in the bunker, blasted out to 3 inches but got one back when Woods pulled his approach on the 15th in hay so thick that grass clung to the back of his shirt. Another bogey.
Woods, who missed only four greens in the first two rounds, missed four on the back nine alone. Instead of pulling away, he brought a lot of people back into the tournament.
The field averaged 71.0, breaking the PGA record for single rounds on par-72 courses of 71.9 set in the third round at Kemper Lakes in 1989. The 53 rounds under par broke the record of 38 rounds at Riviera in 1995.
First came Tom Watson, the 50-year-old who never won a PGA to complete the Grand Slam. Watson holed almost every putt that mattered and tied the course record with a 65. That held up for only an hour.
Along came Olazabal, the two-time Masters champion who had an 81 last week in the Buick Open and began the PGA with a 76. He figured something out Saturday, and walked off with a 63 that could have been even better.
Copyright 2018 The Associated Press. All rights reserved. This material may not be published, broadcast, rewritten or redistributed. We strive to uphold our values for every story published.