The smile, the charm, the breathtaking speed. At 24, Marion Jones is poised to conquer Sydney in a quest for five gold medals.
For this woman, who at age 8 wrote "I want to be an Olympic champion" on a chalkboard in her room, poised is the perfect word.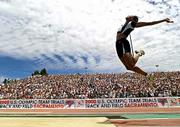 Jones' mix of beauty, grace, brains and talent has made her a charismatic superstar in a sport that sorely needs one.
"She's not the savior of track and field. She just needs to do what she wants to do as an individual athlete," said Craig Masback, executive director of USA Track & Field. "But having said that, could she do for track what Tiger Woods has done for golf? Of course she could."
Fiercely competitive with unshakable self-confidence, Jones is more tomboy than diva. No multicolored fingernails. No skimpy running attire.
"Just show up and give me a race," she says.
Those who do usually lose. It's been that way ever since she was a pigtailed girl tagging along with her older brother Albert, outrunning and outplaying the neighborhood boys in the Los Angeles suburb of Palmdale.
Jones' mother, Marion Toler, is a legal secretary who was born in Belize. Her father George is a Creole from Louisiana.
The marriage was troubled when Jones was born on Oct. 12, 1975. A divorce soon followed and Jones has had little contact with her father since.
Supported by her mother and stepfather, Jones immersed herself in sports.
In 1984, the Olympics came to Los Angeles, and 8-year-old Marion was enthralled.
"She's not the savior of track and field. She just needs to do what she wants to do as an individual athlete. But having said that, could she do for track what Tiger Woods has done for golf? Of course she could."
Craig Masback, executive director of USA Track & Field on Marion Jones
"I sat in front of my television and watched the games," she remembered. "I knew at that moment, when I saw the athletes actually cross the finish line and the excitement cross their faces and the glimmer they had in their eyes, that I wanted to be an Olympic champion."
Next came a moment etched in Jones lore.
"My mother had put a chalkboard in my room for my homework," she said. "I erased all those homework assignments and I put that I wanted to be an Olympic champion."
At the U.S. trials for the 1992 Barcelona Games, the 16-year-old Jones finished fourth in the 200 and sixth in the 100 to qualify as an alternate for the 400-meter relay team. She didn't think she was ready for the Olympics, though. She said she wanted to earn her own gold medal, not just get one for running in a relay preliminary.
"I wanted my first Olympic gold medal to be something that I ran for and sweated for," she said. "So that was our decision not to go. I took math classes instead at a local university."
Basketball was her "other" sport, and she was California Division I player of the year as a high school senior.
Hundreds of colleges recruited her, most of them for track only. She chose North Carolina because she wanted to play basketball, too.
As a freshman point guard, she helped the Tar Heels to a 35-2 record and a national championship. In her three seasons at Chapel Hill, North Carolina was 92-10.
"I have coached Olympians, All-Americans. I have coached the best there is in women's basketball," Tar Heels coach Sylvia Hatchell said, "and Marion Jones is still without a doubt superior to anyone I have ever coached."
That's why Hatchell wouldn't bet against Jones winning five gold medals.
"Marion has so much focus that usually when Marion tells you something, you can pretty much put your money in the bank," Hatchell said. "When she decided to give up her last year of basketball to train for the world championships she told me, 'Coach Hatchell, I want to go out and be the fastest woman in the world.'
"This was like the second week of April, and in two months, she was."
At Carolina, Jones met shot putter C.J. Hunter, a men's assistant track coach who was separated from his wife and two children at the time. They tried to keep their romance a secret.
"We thought we did, but you have C.J. and Marion walking around town together, the word is bound to get out," Jones said. "Of course, the head coach found out and brought C.J. into his office and gave him an ultimatum. You can't have coaches and athletes in any type of relationship. So it really wasn't a tough choice for C.J. He quit his job and it's been wonderful ever since."
Jones and Hunter were married in October 1998. They seem a mismatch. In public, the 320-pound Hunter is gruff, blunt and virtually unapproachable.
"C.J. is very protective, but he's also very loving and caring," Jones said. "Perhaps you don't always see that, but when we leave the track, and when we leave the public eye, he's a big teddy bear. He won't want me saying that because it's breaking down that wall of his, but he's really a nice, caring guy."
Jones planned to take her junior year at college off from basketball and concentrate on track and the Atlanta Olympics. But while diving for a loose ball in practice with the U.S. team preparing for the 1995 World University Games, she broke a bone in her foot.
She was in Atlanta only as a fan, watching her future husband finish seventh in the shot put.
Jones played her final year of basketball at North Carolina in 1996-97, then returned to track with a vengeance. In the summer of 1997, she won the 100 meters at the world championships. In 1998, she was the World Cup champion in the 100, 200 and long jump. She competed in 36 outdoor events in 1998, and won 35.
In 1999, she repeated as the 100 world champion and placed third in the long jump. A back injury kept her out of the 200.
In fall 1998, Jones announced that she wanted to win an unprecedented five golds in Sydney her three individual events and both relays. She didn't think she was bragging, but the remark, as she put it "has taken on a life of its own." Now it seems anything less would be considered failure.
"This is very difficult. She's not a lock in any of the five events," Masback said. "I don't think people understand that. She doesn't have an easy event."
Jones calls six-time Olympic medalist Jackie Joyner-Kersee "my hero, my idol."
They competed against each other one last time in the long jump at the U.S. trials in Sacramento, Calif., last July. After Jones finished first and Joyner-Kersee a disappointing sixth, they sat together on the edge of the track, giggling and laughing like teen-agers, the greatest American female athletes past and present.
Jones wears the title easily as she and Hunter prepare for Sydney. Hunter, a world champion in his event, is a medal favorite, too.
They plan to go there a week before the games begin and nearly two weeks before the track competition starts. She has been pointing to this moment for 16 years, and intends to make the most of it.
"I want to experience the Olympic spirit that everybody talks about," Jones said. "I've talked to Jackie about it, and she says it's unlike anything you've ever experienced. C.J.'s tried to relate to me how it feels, and on and on. That's what I want to experience. That's what I want to feel."
Copyright 2018 The Associated Press. All rights reserved. This material may not be published, broadcast, rewritten or redistributed. We strive to uphold our values for every story published.