Ten years ago osteoporosis was not just the silent disease, it was the little-known disease.
That's changed. Physicians know much more about detecting and treating the bone-thinning condition. And there's been a big jump in awareness among the general public about it -- due in part to heavy marketing by companies that make medications and supplements to treat osteoporosis.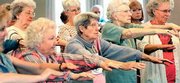 Keeping a close eye on the changes has been the Northern California Osteoporosis Association Support Group. The group offers a place to turn for those diagnosed with osteoporosis, or its precursor, osteopenia.
When the organization formed 10 years ago it was the first support group affiliated with the National Osteoporosis Foundation in California and one of the first in the nation. It has served as a model for new groups that have sprung up throughout the United States.
Helen Fisher of Shasta Lake, Calif., started the group after being diagnosed with osteoporosis and finding a lack of information about it. She linked with the medical community and brought Dr. Michael McClung, an endocrinologist and osteoporosis specialist, to Redding, Calif., to speak in the spring of 1989. Later that fall, she started the support group.
Sharing information
McClung, director of the Oregon Osteoporosis Center in Portland, travels nationally and internationally to share news about osteoporosis with scientists, physicians and patients.
"The changes (in osteoporosis diagnosis and treatment) have been absolutely dramatic in the last 10 or 11 years," he said.
McClung returned to Redding to "relive where we were 10 years ago" with the pioneering support group and to share the latest information on osteoporosis. He said the longevity of the Redding support group is unusual.
"That was one of the original (groups), and it happened solely on the vision and energy of Helen Fisher," he said.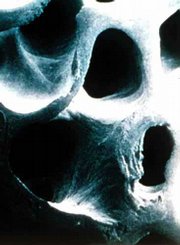 He said the group has lasted because it put its emphasis in the right area -- sharing information "rather than simply hand-holding."
The support group meets once a month. Guest speakers address topics such as exercise or calcium supplements.
"Our purpose is to educate and inform," Fisher said.
The group wants to spread the message that osteoporosis is detectable, preventable and treatable, she said.
"With proper medication, the hunchback, old lady dowager's hump can be prevented," said Carol Minard, who is on the support group's management team.
Silent symptoms
Through its affiliation with the National Osteoporosis Foundation, the group taps into the latest reports and research on osteoporosis.
Osteoporosis develops slowly. The person looks and feels fine, but bones slowly lose density, and painful spinal fractures (resulting in curvature of the spine), broken hips and other bone fractures can result.
Osteoporosis affects both sexes, but 80 percent of those with osteoporosis are women, according to the National Osteoporosis Foundation. Women are especially vulnerable to the disease following menopause when estrogen production drops. Estrogen helps prevent bone loss.
Dr. Richard Boyd of Nuclear Medicine Associates in Redding said people tend to think of bones as inert -- like 2-by-4s holding up a house -- but bones are constantly changing.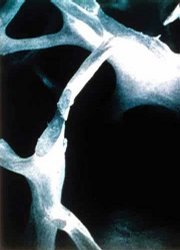 Cells called osteoclasts absorb calcium from the bone so it can be used by the body, Boyd explained. Calcium helps keep the heart beating and muscles working properly. Cells called osteoblasts build bone.
"It's kind of like a continual road crew," Boyd said, with some cells taking bone away and others laying down new bone.
As we age, the balance tips, and more bone is lost than rebuilt. The amount of loss varies widely. Those whose bones thin too much end up with osteoporosis.
"It's a tragic thing," Boyd said. "There are folks who've taken care of themselves and they're unaware of this silent process going on until they break a bone."
Fighting back
Treatment of osteoporosis may involve a combination of estrogen replacement therapy, calcium supplements and exercise. Medications such as alendronate, raloxifine, risedrontate and calcitonin also are used in the osteoporosis fight.
"Over the last five years, we have had an increasingly large and attractive menu of very effective treatment options," McClung said.
He said the therapies halt the progression of osteoporosis and "with treatment, bone density goes up modestly."
"We can arrest the progression of the disease," he said. "Just around the corner, new therapies are being developed to truly build new bone."
Copyright 2018 The Lawrence Journal-World. All rights reserved. This material may not be published, broadcast, rewritten or redistributed. We strive to uphold our values for every story published.