No one took a poll, but it's safe to say few, if any, Kansas University football players complained after coach Terry Allen gave them Thursday afternoon off.
"It's real nice. It helps us get your legs back," junior cornerback Andrew Davison said, summing up the feelings of the majority of his teammates.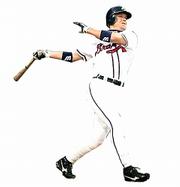 Allen promised his players an afternoon away from the practice fields if their Thursday morning session at Memorial Stadium produced the results he expected.
Allen gave them a passing grade.
"It was decent," he said of the two hours-plus workout that included about 40 full-scale scrimmage plays. "Considering it was only our third day in pads, I felt good about the lack of silly mistakes."
Allen wasted no time in sending his first unit offense against the defensive first-teamers, and it was probably a dead heat.
Quarterback Dylen Smith was impressive, hitting on 11 of 15 passes, including a nifty 25-yard touchdown toss to tight end David Hurst.
"His arm looks stronger than it's ever been," Allen said of Smith, who transferred to KU from a California junior college last fall. "I didn't think he was as sharp as he was yesterday, but I still feel good about his progress. He's our linchpin."
Also on offense, first-year juco transfer Roger Ross continued to impress by catching three passes. Allen announced that Ross, a 5-foot-7, 170-pound junior out of Garden City CC, would replace the departed Henrhilds as the Jayhawks' punt returner.
"It was decent. Considering it was only our third day in pads, I felt good about the lack of silly mistakes."
KU coach Terry Allen
Wide receiver Termaine Fulton, a medical red-shirt last season, was the leading receiver with four catches. One went for big yardage after Fulton, a junior from Topeka, juked one defender and broke an attempted tackle by another on a short out pattern.
On defense, outside linebacker Chaz Murphy had a couple of touch sacks real sacks are a no-no on Smith.
"Murphy made some plays we need for him to make this year," Allen said.
Free safety Carl Nesmith made a couple of his signature big hits. However, Nesmith suffered from heat problems while on a team bus returning from the stadium to Parrott Complex and had to be taken to the student clinic.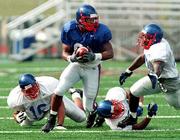 Heat problems have plagued the Jayhawks. Conditions were as torrid Thursday morning as they were on Wednesday when the temperature hit a record 105 degrees, but it wasn't cool.
No one likes the blistering heat, but linebacker Dariss Lomax thinks the scorching sun actually has aided the Jayhawks.
"It's helped us focus," Lomax said, "because you have to concentrate on something other than the heat. We're focusing and getting better every day."
Nevertheless, Lomax was happy to learn a passing cold front was expected to lower today's temperatures into the mid-80s.
"I'm relieved," Lomax said, smiling. "It was hot out on that turf today. But I don't think the heat has been a problem. I mean, it could be real hot in Dallas and we don't want that to be a shock to us."
Kansas will open against SMU on Sept. 2 in Dallas.

Saturday Scrimmage: Although the Jayhawks didn't have to practice on Thursday afternoon, they did go to team meetings. Two-a-days will resume today. Another scrimmage is scheduled for Saturday morning at the stadium. Then from 1-3 p.m. Saturday, KU players will assist fellow students moving into the five dorms located on Daisy Hill.

Injury Report: Running back David Winbush, who suffered a hamstring pull last weekend, didn't scrimmage Thursday, but participated in the post-practice wind sprints. Wide receiver Byron Gasaway, who twisted an ankle a week ago, still isn't at full speed, either.

Personnel Info: Backup quarterback Zach Dyer completed 7 of 13 passes. Third-teamer Jonas Weatherbie threw only twice, completing one. The other was dropped by Fulton. Senior place-kicker Joe Garcia, hoping to bounce back from a dreadful junior year, nailed a straight-on 36-yard field goal, but was wide right on a 27-yard attempt from the left hashmark.

Granuled Out: Allen noted that red-shirt freshman running back Reggie Duncan became the first player affected by rubber granules from the new AstroPlay turf. Duncan was sidelined temporarily when a few of the granules popped out of the turf and into an eye after he was tackled.
Copyright 2018 The Lawrence Journal-World. All rights reserved. This material may not be published, broadcast, rewritten or redistributed. We strive to uphold our values for every story published.