How hot is it? So hot that Kansas University football coach Terry Allen has been forced to change his practice plans.
Scheduled for two sessions in full pads on Wednesday, the Jayhawks instead practiced in full pads in the morning and shoulder pads and shorts in the afternoon.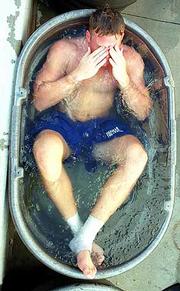 Allen cut about an hour off the afternoon work as well.
"We had a pretty good go this morning and it got hot fast," Allen said after Wednesday's long day under the blistering sun. "It was rotten at the end of the morning practice, and some guys had some heat problems."
Thus Allen prescribed the shorter, padless session in the afternoon.
Senior tight end Jason Gulley, who had been forced out of a couple of early practices with cramping, was a heat victim again on Wednesday morning, and was excused from the afternoon work after taking intravenous injections of saline solution.
"Once you have heat problems, you tend to have them again pretty quick," Allen said, referring to Gulley's difficulties.
With no break in the heat expected today, Allen has scheduled a morning workout in full pads, and another light session in the afternoon. The morning work will be at Memorial Stadium and, Allen said, it will include "15 to 25 plays."
On Friday, a group of Big 12 Conference football officials will be in town to work the practices and talk about the rules.
On Saturday, Allen has tentatively scheduled a morning scrimmage at the stadium, yet nothing is tentative about the afternoon plans.
From 1 to 3 p.m., Allen, his aides and the players will be on Daisy Hill to help students move into the five campus dorms that hover west of the practice fields.
The Daisy Hill goodwill session is, in essence, damage control for the bad publicity the football team received when two players one no longer on campus were linked to an alleged sexual assault against another student last spring.
No charges have been filed in that incident, but the damage has been done .
"We're trying to repair some of the things that have happened," Allen said.
Following those two hours of campus service, the Jayhawks will head back to Parrott Complex for their annual preseason watermelon feed sponsored by the Topeka Quarterback Club.

Coker Injured: Tony Coker, a freshman offensive lineman from Hoisington, suffered a broken middle finger on his left hand during the morning practice. However, Coker was able to practice in the afternoon. Like most freshmen, Coker will likely be red-shirted.

Winbush Healing: Senior running back David Winbush pulled a hamstring in last Saturday afternoon's padless drill and hasn't been at full speed since. "I anticipate he'll have some action Saturday," Allen said.
Copyright 2018 The Lawrence Journal-World. All rights reserved. This material may not be published, broadcast, rewritten or redistributed. We strive to uphold our values for every story published.