The World Company, which operates the Journal-World and Sunflower Cablevision, is planning to assemble a cutting-edge communications complex by renovating and adding to existing downtown buildings.
The company wants to expand its businesses into a campus-like setting on both sides of New Hampshire Street, between Sixth and Seventh streets. The project would include a pedestrian bridge to connect the two sides of the street.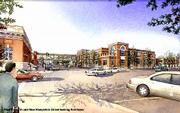 The campus would give the company enough space to combine its news operations, expand its publication capacity, bolster its cable-television capabilities and likely enter the telephone market.
"We've outgrown everything we have," said Dolph Simons Jr., president of The World Company. "This will be a big project both timewise and dollars-and-centswise but we think it's worth it to meet our commitment to the city of Lawrence."
The exact cost for the "multimillion-dollar" project has not yet been determined, said Ralph Gage, general manager of the company. In all, the campus would provide nearly 184,000 square feet of space for offices, production and other services.
Plans are to be reviewed Thursday by the city's Historic Resources Commission, which is responsible for assessing the project's impact on nearby landmarks including the Eldridge Hotel, 701 Mass.; and the Consolidated Barb Wire Building, 546 W. Sixth.
A request also is pending to rezone the company's properties on the east side of New Hampshire Street from industrial to commercial use.
If all needed approvals are secured, the four-phase project could begin next month and be finished by January 2002, Gage said. Among the project's components:
Create a combined or convergent newsroom for the Journal-World, 6News and Internet employees at 645 N.H., a building known as the old post office. The combined operation would allow for coordinated dissemination of news through print, video, audio and the Internet, Gage said. The old post office's current tenant, Interiors, is relocating next month to 738 Mass.
Connect the old post office and existing Journal-World building with an expanded mailroom and relocated loading docks that would improve truck access to the Journal-World and keep semitrailer trucks from blocking traffic lanes when they are backed to unload at the docks, Gage said. The second phase also would facilitate the Journal-World operations related to USA Today, distributed across Kansas and into parts of five other nearby states from the Journal-World's printing plant.
Build a two-story addition for Sunflower Cablevision, 644 N.H., to include offices and a larger studio. It also would include a pedestrian bridge between the building and the addition to the old post office "the glue that binds the project together," Gage said. City staff recommends that the commission oppose the bridge.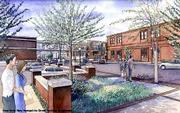 Build a three-level parking garage along Rhode Island Street, between Seventh Street and a city parking lot behind Reuter Organ, which is moving to a modern plant and whose property and buildings have been purchased by The World Company.
Jerry Bottenfield, executive director of Downtown Lawrence Inc., said he was pleased that the company decided to keep its 400 employees downtown. The company had considered moving to about 50 acres northwest of Sixth Street and Wakarusa Drive, but recent acquisitions of the old post office and Reuter's plant made downtown feasible again.
"It's a great project, and it's being done in a way that the style of architecture and the drawings I've seen complement the historic aspects of downtown," Bottenfield said. "It's a modern architecture but in a way that harmonizes with the downtown."
Gale Willey, who has lived at 638 N.H. for 26 years, currently looks across the street at satellite dishes, Sunflower Cablevision trucks and other World Company cars in a parking lot.
"It's going to be a lot better than what we look at now," Willey said. "It will look a lot better."
Copyright 2018 The Lawrence Journal-World. All rights reserved. This material may not be published, broadcast, rewritten or redistributed. We strive to uphold our values for every story published.