They call Rita Quintero the woman who fell from the heavens. But her 12 years in a Kansas mental hospital must have been hell.
Quintero, a Tarahumara Indian from Mexico, is back home in the mountains of Chihuahua near the state's barely accessible Copper Canyon.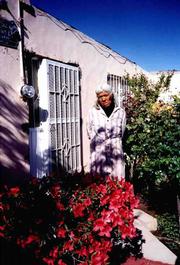 But her strange Kansas odyssey has become the subject of a play.
It also prompted a $10 million lawsuit accusing the state of Kansas of negligently putting her in a hospital and letting her languish because no one understood her rare language.
"This is an absolutely sad chapter that I don't think anybody in this agency would expect we would still find in what we'd like to think is an enlightened age," said Robert D. Ochs of Kansas Advocacy and Protective Services.
The nonprofit group freed Quintero.
But because of the pending lawsuit, Kansas Department of Social and Rehabilitation Services won't comment even to confirm Quintero was a patient.
According to her hospital file, Quintero was detained by police in Johnson City, in southwest Kansas, in 1983.
"She was digging in trash cans," said Miguel Giner. "She was looking for food. Probably, she was hungry."
Soon after, she was sent to Larned State Hospital.
Giner, now a Topeka social worker, was working in Great Bend in 1994 when he learned of Quintero. From Chihuahua, he knew of her tribe and enough of her language to help interpret it.
Interpretation was a problem from the start of Quintero's ordeal.
Sherry C. Diel, deputy director and attorney with Kansas Advocacy, said Quintero's language was always a puzzle. A Portuguese interpreter was brought in. Quintero later was thought to speak a dialect from Spain.
The language she speaks lacks even an alphabet. Linguists consider it an evolved form of ancient Aztec. With her limited Spanish, Quintero seemed to be saying she was from the sky, or from heaven.
The reference to the sky could have been a description of the mountains where she lived in Mexico. To Kansas officials, it meant she needed help.
More 'evidence'
At Larned State Hospital, Quintero would spend some days chanting and dancing. She was diagnosed schizophrenic.
"That was considered to be evidence of her mental illness, when in fact that is something that is common to her culture," Diel said of her chants and dancing.
Quintero was said to be disoriented about time.
"Time doesn't mean anything in her culture," Diel said. "They go by phases of the moon."
She didn't have the annual review she was entitled to because she didn't ask, Diel said.
She didn't have a say in her medications, because she couldn't speak English.
"They continually gave her medication that was ultimately very harmful to her," Diel said.
Regular doses of antipsychotic medication during 12 years left their mark.
"She kind of swings when she walks," Diel said. "Her tongue is swollen and hangs to the side."
Quintero's rescue
In 1993, Kansas Advocacy began a new initiative to look at patients institutionalized more than five years. Five people were selected for the program at Larned. But two or three of those weren't interested. Quintero was chosen as a replacement.
Tori Mroz, then a lawyer with Kansas Advocacy, pursued the case. She tracked down family members and navigated the bureaucracy of two countries and two states during two years.
The truth about the woman from the heavens was finally understood.
In September 1995, Quintero finally was allowed to leave Larned and return to Mexico. She lives with family, alternating between the city of Chihuahua and the mountain village where she spent most of her life.
The lawsuit was filed in federal district court in June 1996.
Kansas Advocacy charges the state wrongfully confined her and failed to obtain informed consent for her medications.
"How could they diagnose her if they didn't understand the language?" Diel said.
The suit seeks $10 million for Quintero in actual and punitive damages. It also asks for assurances that others won't be similarly locked up because of language. The case is pending.
SRS officials admit no wrongdoing.
"They are still continuing to stonewall this case," Ochs said. "Maybe I'm too much of a romantic to think the government might admit they were wrong."
A few mysteries remain
Quintero has received some benefit from the suit. Her original court-appointed attorney admitted mishandling her case and established a settlement fund from which she draws a modest monthly stipend.
Giner said Quintero also is receiving some of the royalty money from the play based on her story, "La Mujer que Cayo del Cielo" or "The Woman who Fell from the Sky," by Mexican playwright Victor Hugo Rascon Banda.
The play's United States premiere was in June at Borderlands Theater in Tucson, Ariz. It struck a chord with the audience, said Kathy Ortega, theater business manager.
"People were very interested in staying and talking and really hearing about what was going on now," Ortega said.
A few mysteries still remain in Quintero's story.
Her age is still unknown, though Diel guesses she is about 60.
Quintero also has never clearly explained how she arrived in Johnson City in the first place. Diel said she refuses to answer questions about her experiences and will walk away from questioners.
"She hates Kansas," Diel said. "She won't talk about this."
Copyright 2018 The Lawrence Journal-World. All rights reserved. This material may not be published, broadcast, rewritten or redistributed. We strive to uphold our values for every story published.