Kansas University Professor Robert Antonio finds himself on the cutting edge of one of the hottest social issues of the 21st century: globalization.
He's been studying the issue for years and before it became a hot topic his papers took the years-long process most academic work follows to publication.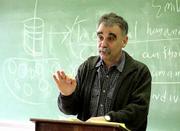 But that's changed. He's presented two papers this week before national and international sociology associations. And the 55-year-old sociologist already has been contacted about publishing them by an East Coast university press.
"I don't know how they found out about it," Antonio said.
"The time from acceptance to publication for papers about globalization is happening in one-eighth of the time" it once took, he said. "There is some idea the ground is shifting, a sense that something big is happening."
When they refer to globalization, academics are talking about the creation of a global economy with few or no trade barriers between nations and the effects of that change.
Some fear the change means a loss of culture and national values. Others fear bigger changes.
"The existing political institutions are facing a situation where they may become obsolete because the transnational economic institutions are where the real power lies," said Norman Yetman, KU professor of American Studies.
Part of what Antonio and Yetman are doing is defining exactly which issues should be included under the name globalization.
KU's American Studies Department is planning a double-issue in October of its quarterly American Studies Journal. The issue will be devoted to globalization.
"One of the things we're trying to do is identify the different dimensions of globalization and what the implications are for the rest of the world," said Yetman, co-editor of the American Studies Journal.
Scholars frequently turn to Nike Inc. as an example of globalization in action.
The Oregon-based sportswear manufacturer contracts to Third-World companies to make its shoes and other sportswear.
That's raised domestic concerns about sweatshop labor. Students at KU and other universities have persuaded university administrators to sign anti-sweatshop pledges for clothing that bears the university logo.
So, Nike, along with other manufacturers, has to agree to the pledge if it wants to sell shoes with Jayhawks on them.
"Nike is really a cybercorporation. It doesn't make anything in Oregon," said David Katzman, professor of American Studies.
"They may be beyond the control of governments to regulate."
Many political leaders have adopted that point of view. The philosophy behind it is called neo-liberalism.
"Neo-liberals who support free markets say it can't be regulated," Katzman said. "Others say it was constructed by human beings and it can be changed."
Copyright 2018 The Lawrence Journal-World. All rights reserved. This material may not be published, broadcast, rewritten or redistributed. We strive to uphold our values for every story published.