Practical horticulture advice and thoughtful plant recommendations is the strength of a glossy new gardening book, "100 Easy Perennials," by Natalia K. Hamill of rural Lawrence.
Hamill holds a bachelor's degree in horticulture and is the former horticulture editor of Flower and Garden magazine. She also hosted a weekly garden feature called "Green Thumb Tips" on a Kansas City TV station.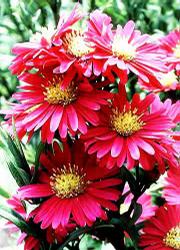 When Hamill moved to Lawrence in 1995, she co-founded Clearfield Farm, a retail nursery and garden center specializing in perennials and garden design. She and her family live on 100 acres just outside Lawrence where she grows hundreds of perennials in her home garden along with a growing collection of native prairie plants.
Hamill is now a free-lance garden writer and photographer. Her stories have appeared in Fine Gardening magazine, Organic Gardening, Garden How-To magazine and The Kansas City Star. She has contributed to a number of gardening books and lectures regularly about all aspects of perennial gardening and garden design.
Typically, perennials are plants that are long-lived, providing color and pleasure in the garden for years. Their bloom time is only a few weeks, compared to the lengthier blooming of annuals. Perennials survive winter outdoors, even though non-woody perennials die back during the cold season. The following spring they produce new growth and flowers and repeat the cycle.
The text in her new book is well organized and easy to read. Clear color photographs show perennials at their best, enough to inspire as well as educate.
"Not all plants are perennials to the same degree," Hamill cautions. "Just because a plant is called a perennial doesn't mean it going to live for 5 to 20 years." To illustrate her point she notes that plants like gaillardia are short-lived perennials, dying out within a season or two. "On the other extreme are peonies. They can live 50 to 100 years in the right conditions," she says. "They are definitely an heirloom plant."
"100 Easy Perennials" can be enjoyed by both novice and experienced gardeners alike. The first third of the book is a how-to, covering garden planning, designing with and caring for perennials and the propagation of perennials. "The first part of the book makes people aware of what plants need to thrive," Hamill says.
Occasionally, illustrations are used to demonstrate techniques for planning, plant-ing and propagating.
In the book, Hamill also discusses ways to keep commonly grown perennials, like shasta daisies, healthy. While these popular perennials are not fussy, they tend to bloom vigorously the first year, then become weak or die out the next year. Many gardeners mistakenly believe they have killed off the perennial.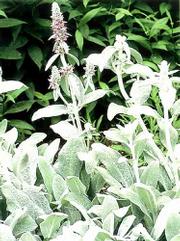 "Sometimes the center of the plant becomes woody with just a few tufts of fresh growth in the spring," Hamill explains. To renew the plant, dig up the entire plant and replant the healthy new growth.
Insets detail perennials for specialty gardens, such as cut-flower gardens, shade gardens or those with sunny spots. Two lists suggest drought-tolerant and moisture-loving perennials. Hamill includes suggestions of perennials that can be grown for fragrance, flower or foliage.
In addition to a plant hardiness zone map, she includes a heat zone map in her book. This relatively new zone map helps gardeners determine how well certain perennials can handle the summer heat. The heat zone map illustrates the average number of days per year an area has temperatures above 86 F. Most of northeast Kansas falls into zone 7, averaging 60 to 90 days of 86 F or higher weather.
The remainder of the book contains a general reference of perennials recommended by Hamill. Each entry includes a plant description, easy-care growing tips, propagation advice and uses for the perennial in the garden.
Page after glossy page, "100 Easy Perennials" takes the guesswork out of gardening. And with few exceptions, the perennials listed are those that do well in the Midwest.
"The 100 in the book are pretty much plants that I've grown," Hamill says. "Given the right conditions, they have been easy to maintain."
is education coordinator at Lawrence Memorial Hospital and the garden writer for the Journal-World.
Copyright 2018 The Lawrence Journal-World. All rights reserved. This material may not be published, broadcast, rewritten or redistributed. We strive to uphold our values for every story published.