An Old West Lawrence liquor store has a new owner and manager, just in time for its biggest customer base to move back into town.
Stacey Wendland and Mindie Dodson are teaming up to run Dodson Liquor, the former Patterson Liquor at 846 Ill. Just across the street is the Oread neighborhood, home to dozens of houses split into apartments for student tenants.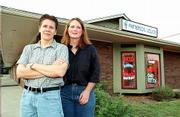 The store also is a mere two blocks from the Kansas University campus, which is springing back to life this month with the approach of fall classes.
"It's just killer," said Wendland, the store's owner. "Our location is awesome. Once the dorms open, all hell's going to break loose I hope."
Wendland bought the Patterson store and its adjacent "party annex" in July, and has been gearing up ever since. For the weekend the store has 75 kegs in storage, plus hundreds of cases of beer.
Dodson, who manages the store, expects sales to triple this weekend. The place routinely carries $100,000 worth of inventory.
"We've got the place fully stocked to handle the influx," Dodson said.
Dodson got the idea to enter the liquor business in February. Wendland soon agreed that it would be complementary to her own parents' business, Sunflower Rental, whose shop she manages at 3301 W. Sixth.
Last year under its former ownership, the liquor store averaged sales of $22,000 to $25,000 a month, Wendland said. She expects to boost that by another 30 percent to 50 percent.
An as-yet untapped market: her affiliations with caterers, restaurants and others who use Sunflower Rental for chairs, tables, tents and other equipment.
"I always thought selling liquor would be a really nice tie," said Wendland, who also expects to cater to parties by selling items such as tonic water, straws, limes and ice in the adjacent Dodson Party Shoppe. "This was the next natural expansion for me."
According to the National Beer Wholesalers Assn., the beer industry in Kansas provides 26,800 jobs, paying $476 million in wages.Beer sales also pour $412 million of tax revenue into local, state and federal coffers, the association said.
Copyright 2018 The Lawrence Journal-World. All rights reserved. This material may not be published, broadcast, rewritten or redistributed. We strive to uphold our values for every story published.