Got sunflowers? Ted Grinter has a 30-acre field of them half way between Lawrence and Tonganoxie and he's inviting you to pick a few.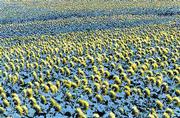 Just help yourself, put a dollar in the box for each one you cut, and enjoy the view.
For nearly 20 years Grinter has been planting sunflowers in alternating fields just off of U.S. Highway 24-40 at Stillwell Road and 246th Street in Leavenworth County. It's about 7 miles northeast of Lawrence.
A sign invites passersby to pick the flowers and leave money in a drop box. Grinter or his relatives periodically check the box.
"I don't think everybody pays," Grinter said. "Maybe half of them do. I'd like to make a little bit off of it."
The sunflowers just recently bloomed. They will stay in bloom for about two more weeks, Grinter said, before they begin to wilt and dry up.
Grinter will harvest them near Halloween and sell the seeds to seed stores.
"They are the prettiest and the ugliest crops I've ever planted," he said.
While in bloom, the massive field of bright yellow and orange flowers becomes quite a tourist attraction, Grinter said.
"It's just fantastic the way people react," he said. "Cars will drive up and families will get out to have their pictures taken by the field. Some people will stop, then go get their cameras and come back."
Grinter, 34, who lives and farms in the same area, said he plants sunflowers for diversification. His main crops are the standard corn, wheat and soybeans found on most area farms.
The sunflower is Kansas' official state flower but you don't see too many in the eastern part of the state, Grinter said.
"They're really not a difficult plant to grow," he said.
Copyright 2017 The Lawrence Journal-World. All rights reserved. This material may not be published, broadcast, rewritten or redistributed. We strive to uphold our values for every story published.