Seattle, WA — Amazon.com and Toys R Us are collaborating to set up online stores selling toys, video games store and baby products.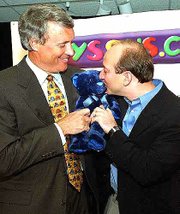 Under the alliance announced Thursday, Toys R Us' Internet subsidiary, toysrus.com, will buy and manage inventory, which will be kept in Amazon.com's distribution centers around the country. Amazon.com will create and maintain the new Web site, handle transactions and fill orders.
The co-branded toy store is expected to start this fall. The baby store opens early next year.
The alliance will bring much-needed cash to Amazon.com. The 10-year deal calls for Amazon.com to receive regular fixed payments from Toys R Us a set payment for each item shipped and a percentage of the stores' overall revenues.
Amazon.com also will receive warrants to acquire 5 percent of toysrus.com.
The move signals Toys R Us' surrender of its own independent Internet stores, toysrus.com and babiesrus.com.
Once the co-branded Amazon.com store opens, the toysrus.com address will lead Web surfers to Amazon.com's toy store. The same thing will happen at babiesrus.com, which launched just last month, once the combined baby store launches.
"The more we got to know the Amazon.com people, the more respect we had for their caliber, their 'customer centricity,' " said John Eyler, chief executive officer of Toys R Us Inc. "They're more than several years ahead of us in that regard."
Toysrus.com, which is just over a year old, had a rough outing last Christmas. The site was forced to turn away customers in early November when a promotion caused a surge in customers that swamped company computers.
Although Eyler said toysrus.com managed to get 95 percent of its orders shipped in time for Christmas, customers who didn't receive their orders on time despite placing them as early as Dec. 14 filed a class-action lawsuit against the company.
Copyright 2018 The Associated Press. All rights reserved. This material may not be published, broadcast, rewritten or redistributed. We strive to uphold our values for every story published.