Mike Rees emerged from a Lawrence Chamber of Commerce meeting Wednesday more convinced that improving 31st Street may be the best solution to south Lawrence's traffic problems.
But a group that has fought construction of a trafficway through area wetlands said his plan poses the same problems as an earlier, failed effort.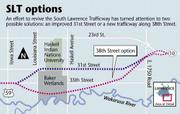 Rees, a Kansas Department of Transportation attorney acting as a private citizen, has pursued the completion of the eastern leg of the South Lawrence Trafficway along a 38th Street alignment. Under that plan, 31st Street would be closed as a means to get Haskell Indian Nations University approval.
"The idea of closing 31st Street was a big issue," Rees said of Wednesday's meeting with chamber officials. "I kind of had the perception they would rather find local solutions and have the bypass go south of the (Wakarusa) river."
Chamber President Bill Sepic said he wasn't sure where Rees got that perception. Sepic said there was no discussion of the removal of 31st Street by the chamber board.
"I don't recall us saying that is more of a problem or less of a problem," Sepic said.
Another option has emerged in recent days, Rees said, which would channel traffic along 31st Street, with connections on the east to Kansas Highway 10 near Noria Road and on the west with the South Lawrence Trafficway.
The road could attract state money for the improvements such as traffic signals and turn lanes by being designated a state highway connector route for K-10, Rees said.
That would avoid including the street in the South Lawrence Trafficway, which federal courts have prohibited.
Such a plan has been expected by the members of the Wetlands Preservation Organization, said Anna Wilson, a spokeswoman for the group of Haskell students and alumni who have fought the trafficway's construction through the Baker Wetlands.
Wilson said that any road that follows the former route studied for the trafficway would violate the federal rules and would again require the multilayered federal process to be followed.
"Federal regulations will apply," Wilson said. "Haskell owns 31st Street."
Rees said he is prepared to fight the issue in court but is open to both options.
"I think 38th Street is doable if it has the support of the community," Rees said. "If the community itself remains divided as to whether it is a good idea then Mike Rees personally is going to go to Colorado."
Rees said that even if a 38th Street trafficway is pursued, federal regulations will require that all other options, including the improvement of 31st Street, be considered.
Sepic said the chamber board would again discuss the issue at its regular meeting Aug. 23.
Copyright 2018 The Lawrence Journal-World. All rights reserved. This material may not be published, broadcast, rewritten or redistributed. We strive to uphold our values for every story published.