Volunteers are needed to don a pair of gloves, bear the heat and help put the Baker Wetlands boardwalk back together again.
The project involves rebuilding about 160 feet of the 850-foot boardwalk, which was destroyed in what was supposed to be a controlled burn in April, said Roger Boyd, a Baker University biology professor.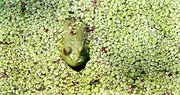 Boyd oversees maintenance of the natural area just south of Lawrence. Every two years, he and a group of Baker students burn off the wetlands to encourage the growth of grass and plants and to rid it of saplings.
"We had just burned under the boardwalk and had a few trees that were smoldering," he said. "Apparently one of the cardboard frames around the concrete caught fire and started the boardwalk on fire."
Boyd and his four students were able to extinguish the fire.
Since then, Boyd and a few relatives installed some boardwalk support beams made from old utility poles donated by Western Resources.
"We have the first 60 feet framed up, so it's ready for the planking," he said.
Now, Boyd said he needs several volunteers to install the plastic lumber on top, build two benches and finish laying the remaining support beams. Each beam is 20 feet long and weighs 400 pounds.
"It takes at least three people to move the big timbers," he said.
Boyd said he hopes volunteers show up for work starting at 8 a.m. Thursday, Friday and Saturday. He said people should bring gloves and a drill or a hammer if they have one.
"How long we'll work depends on how hot it gets. We'll work at least until noon," he said.
Boyd said he thought most of the work would be completed by Saturday.
Volunteers can meet at the gravel road entrance about a half-mile west of Haskell Avenue on 31st Street on the south side of the road.
Many of the construction materials for the project were purchased with donations. Boyd received nearly $3,000 from several individuals and groups, plus a $1,200 donation from the Jayhawk Audubon Society.
Copyright 2018 The Lawrence Journal-World. All rights reserved. This material may not be published, broadcast, rewritten or redistributed. We strive to uphold our values for every story published.