Though it pained her to say it, Edna Kennell was a little disappointed by the Oregon Trail's Blue Jacket crossing.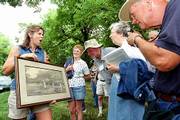 Kennell is from Wyoming, a state where the drier climate and limited farming have preserved long stretches of the trail as they might have looked the day the last covered wagon passed through.
By comparison, the depression leading to the Wakarusa River just off Douglas County Road 1057 would seem modest.
But that makes it no less worthy of preservation and study, Kennell said.
"I think it's just as important we pay attention to every little section here as we do to the great big stretches in Wyoming," Kennell said.
On Monday, Kennell and about 40 other trail enthusiasts were in Douglas County as part of the 18th annual convention of the Oregon-California Trail Assn.
The convention has drawn about 400 people to the Adam's Mark Hotel in Kansas City, Mo. It continues through Saturday.
Also on the itinerary for Monday's tour and a repeat tour planned for today were Mount Oread, across which the trail passed, and Blanton's Crossing, an alternate Wakarusa River crossing near East 1400 Road.
Blue Jacket crossing has changed little in the last 150 years. A sandstone bluff adjacent to it still provides the gravel that makes the crossing shallow and stable compared to the muddier and deeper alternatives.
The many trees obscure the buildings of the Gage farm on the south side of the river and other signs of the modern age.
It was not a leap for James Cahill of Coronado, Calif., to imagine the wagon trains with animals splashing, wheels squeaking and men cursing.
"It's one of the few that have got the ruts still visible," Cahill said of the crossing. "We're talking about Quantrill. We're talking about John Brown. We're getting the history."
It is a history that more should receive, said Vern Osborne, of St. George, who acted as a guide and is a member of the Kanza chapter of the Oregon-California Trails Assn.
"We do not promote the history and the resources we have in this state," Osborne said. "There are not enough people that know about this particular crossing."
But interest in trails is growing, Kennell said.
"People are really taking an interest in history and their history," she said. "The trails are the history of the U.S. expanding, and it's important."
Copyright 2018 The Lawrence Journal-World. All rights reserved. This material may not be published, broadcast, rewritten or redistributed. We strive to uphold our values for every story published.