Just like every other college football fan, Nebraska coach Frank Solich was anxious to know how highly his Cornhuskers would be ranked to open the season.
Well, they're No. 1 and defending national champion Florida State is a close No. 2 in The Associated Press Top 25 preseason college football poll.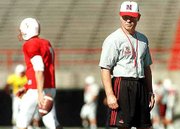 Conspicuous by its absence is Notre Dame, unranked in the preseason poll for the first time since 1986.
"We appreciate the fact that enough people think so highly of our program to put us at No. 1," Solich said. "We finished very strongly at the end of last year and felt we could play with anyone in the country. How it all plays out this year, we'll see."
The Huskers start on top for the sixth time since the AP's first preseason poll in 1950. An ominous note for Nebraska fans, though: The Cornhuskers have won four AP national titles since then, but none in years they started No. 1.
Coming off a strong 12-1 season and No. 3 final ranking, the defending Big 12 champion Huskers received 36 first-place votes and 1,732 points from the 71 sports writers and broadcasters on the AP panel.
The Seminoles, 12-0 last season and the first team to be ranked No. 1 from start to finish, collected 29 first-place votes and 1,720 points. The 12-point difference is one of the closest the tightest preseason poll was 1994 when Florida edged Notre Dame by two points.
Florida State coach Bobby Bowden wanted the top spot for one reason "to see how long we could go wire-to-wire and keep it going.
"It's nice to be No. 2, though. You want to stay visible," he said. "If you're in the Top 10, you're visible. Other than that, it really doesn't matter until January."
Alabama, the defending Southeastern Conference champion, is No. 3 the Crimson Tide's highest preseason ranking since a No. 2 start in 1993. The Tide received three first-place votes and 1,570 points.
Wisconsin, the two-time Rose Bowl winner and defending Big Ten champion, is No. 4, followed by No. 5 Miami, No. 6 Michigan, No. 7 Texas, No. 8 Kansas State, No. 9 Florida and No. 10 Georgia. Wisconsin, with its highest preseason ranking, had one first-place vote. Texas had two first-place votes.
Solich believes the Seminoles deserve the top spot: "Them winning it all and the number of players they have returning, in my mind, they are No. 1 until someone unseats them."
Virginia Tech, a 46-29 loser to Florida State in the national title game at the Sugar Bowl after going 11-0 in '99, is No. 11, followed by No. 12 Tennessee, No. 13 Washington, No. 14 Purdue, No. 15. USC, No. 16. Ohio State, No. 17 Clemson, No. 18 Mississippi, No. 19 Oklahoma and No. 20 TCU, ranked in the preseason for the first time since 1960.
Illinois is No. 21, followed by No. 22 Penn State, No. 23 Southern Mississippi, No. 24 Colorado and No. 25 Michigan State.
Notre Dame was 5-7 last season, and coach Bob Davie understands why the Irish are not in the rankings.
"But we've probably been ranked a few times just on name only when maybe we didn't deserve to," he said . "We're just not going to get all bent out of shape about it."
The Big Ten leads all conferences with seven teams in the preseason Top 25 Wisconsin, Michigan, Purdue, Ohio State, Illinois, Penn State and Michigan State. The Southeastern and Big 12 conferences have five each Alabama, Florida, Georgia, Tennessee and Mississippi in the SEC, and Nebraska, Texas, Kansas State, Oklahoma and Colorado in the Big 12.
Nebraska was last ranked No. 1 to open the season in 1996, the year after winning its second consecutive national title. The Huskers finished No. 6 in '96.
Nebraska is in the Top 25 for a record 309th consecutive time, with Florida State second in consecutive polls at 183. Since 1969, the Huskers have failed to be ranked in an AP poll only three times they've been in 483 of the last 486 polls.
Copyright 2018 The Associated Press. All rights reserved. This material may not be published, broadcast, rewritten or redistributed. We strive to uphold our values for every story published.