HAMILTON, MONT. — Choking smoke veiled homes and businesses here Saturday as flames turned forest to ash a few miles away in one of dozens of blazes that have made Montana a leading hot spot on the West's fire map.
"The Northern Rockies area is the hottest place in the country at the moment, and it's mostly Montana," said Lynn Pisano-Pedigo, spokeswoman at the National Interagency Fire Center in Boise, Idaho.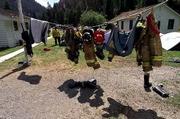 President Clinton is expected to tour the area Tuesday and speak with some of the more than 1,500 military troops who have been sent in to help exhausted civilian fire crews, the White House announced Saturday.
"The president wanted to just let the firefighters know how much the country appreciates what they are doing," White House spokesman Joe Lockhart said. Lockhart said Clinton planned to stop in Idaho, but he didn't say whether he would announce new grants or additional assistance from Washington.
Across the West on Saturday, about 70 large fires were burning on more than 747,100 acres, according to the National Fire Information Center. The biggest, in Idaho, had charred at least 102,000 acres near the Montana border.
Montana's 16 largest fires had burned about 135,000 acres by Saturday, and smaller fires had blackened thousands more.
"Montana may not have the greatest amount of acreage, but it has more new (fire) starts and more severe weather, lightning going through," Pisano-Pedigo said.
"The weather system hasn't changed significantly in the last couple of weeks," she said. "You do have the summer thunderstorms. But unfortunately, there isn't a lot of moisture connected with these. You get a lot of dry lightning."
More than 300 homes have been evacuated in southwestern Montana's Bitterroot Valley, where more than 54,000 acres of the national forest have burned. And officials in the Hamilton area warned Saturday that more than 300 additional evacuations could be necessary. North of Missoula, residents of 12 homes fled Friday night, threatened by one of the state's smaller fires, a 2,000-acre blaze on the Flathead reservation.
At an entrance to Hamilton, a sign reads: "Thank you firefighters," enclosed in a heart. Another sign nearby tells people where to find evacuation centers if fire should threaten the town.
"I'm basing my concern on the attitudes of people around me," resident Vicki Lawson said Saturday at a coin-operated laundry near her home here. "Obviously, I don't sense much panic."
A health alert was issued for the Hamilton area advising people to stay indoors because of the heavy smoke. In Helena, dense smoke from fires south of the city obscured the Capitol dome.
So far this year, more than 62,000 wildfires, mostly in the West, have burned 3.8 million acres. Assistant Interior Secretary Sylvia Baca has called it the worst fire season in 50 years.
Canadian fire teams are already working in the Northern Rockies alongside hundreds of Army soldiers and Marines sent in to help weary civilian fire crews, and officials expect more Canadians to be battling fires there by Monday.
"Everyone has a high degree of concern about the forest," said Forest Hayes, mayor of Darby, Mont. Solitude and scenery have led people to live in wooded areas away from town, he said, but the trade off is a measure of risk when fire danger rises.
Elsewhere in the West, a blaze 15 miles east of Jackson, Wyo., threatened several homes and cabins, but requests for more firefighters and planes to drop retardant were denied because of demand elsewhere, said Forest Service spokeswoman Mary Tyler. Some 200 people had been evacuated, many for four nights.
Wyoming got some rain from fast-moving thunderstorms Friday afternoon, but "it was not enough rain to really be of any help to the firefighters," Tyler said. "We would need several inches to help us."
Mesa Verde National Park in Colorado was closed again by another rapidly spreading blaze on Friday, just hours after it had reopened after a 10-day, 23,000-acre fire. The latest fire in the nation's largest archaeological preserve doubled in size during the night, blackening 3,500 acres near some of the park's most popular sites by Saturday.
"There is no threat to the cliff dwellings," said Rob Morrison of the Durango, Colo., interagency dispatch center. "They're down in a canyon and there is no way for the fire to get in there."
In California, a 73,000-acre blaze that has raged near Sequoia National Forest was 80 percent contained Saturday, freeing up firefighters and equipment to be diverted to other locations, said Lee Bentley, a fire information officer for the U.S. Forest Service.
------
On the Net:
National Fire Information Center: http://www.nifc.gov
Forest Service links: http://www.fs.fed.us/fire/links2.shtml
Copyright 2017 The Associated Press. All rights reserved. This material may not be published, broadcast, rewritten or redistributed. We strive to uphold our values for every story published.