Berlin — Police detained dozens of neo-Nazi supporters trying to hold a rally Saturday, while hundreds of Germans took the streets in an anti-Nazi protest decrying the rise in racist attacks.
The arrests came after courts banned the extreme-right National Democratic Party (NPD) from holding a rally in Bad Berka, a resort near Weimar in eastern Germany, calling it a danger to public safety.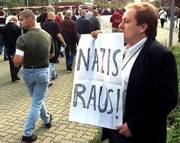 Around 100 skinheads were taken into custody by police as they tried to attend anyway.
About 1,200 people turned out for the anti-Nazi demonstration in Duesseldorf, where an explosion July 27 at a rail station injured 10 recent immigrants from the former Soviet Union, six of them Jewish.
Although police have yet to determine a motive, the possibility that the grenade was set off by right-wing extremists has triggered a wave of national soul-searching and demands for action to stop the daily occurrences of neo-Nazi offenses, ranging from spray-painting swastikas to three fatal attacks so far this year.
"It's true that Hitler and his followers were beaten militarily 55 years ago, but in the year 2000 they're still not politically defeated," author Ralph Giordano told the crowd.
His remarks were echoed by onlookers, some of whom noted sadly that a rally demanding tougher leash laws for attack dogs two weeks ago attracted nearly 10 times as many people.
"Sometimes I'm afraid it's already much too late," said Elisabeth Debener, an 81-year-old retiree who lived through the Nazi era. More than 50 years later, one of her acquaintances is harassed on the street because of his dark skin when they walk together to the train, she said.
"We're in a situation in which one has to be afraid," she said.
In the eastern city of Eisenach, more than 300 people gathered Friday night to show support for two African men who were kicked and spit at and chased through the town by a gang a week ago.
Nine young neo-Nazis were jailed overnight for threatening to disrupt that demonstration. Police said their leader, an NPD member, had a banner with an anti-foreigner slogan hidden under his clothing.
About 250 NPD attended a rally Saturday that the party was allowed to hold in Tostedt, east of Bremen.
Chancellor Gerhard Schroeder's government is considering having the fringe NPD declared unconstitutional for agitating against foreigners, leftists and other minorities.
Copyright 2018 The Associated Press. All rights reserved. This material may not be published, broadcast, rewritten or redistributed. We strive to uphold our values for every story published.