When Mark and Brenda Frei heard their youngest son's croupy cough, they knew what to do.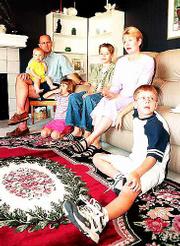 They didn't waste time or money using cough medicines or antibiotics in an attempt to fight a cold. They recognized the cough as a symptom of viral-triggered asthma, and they knew the condition could be managed effectively with an infant mask and a standard aerochamber.
The Freis know asthma all too well. They and their four children Guerin, 1; Bailey, 6; Addison, 8; and Anthony, 11 have the condition.
Last year, they spent more than $1,000 on asthma medicines and another $500 or so on allergy medicines. Add in a half dozen doctor visits, one trip to the emergency room when Anthony had a severe episode last winter and elevated insurance premiums, and the costs rise quickly.
"Every child has different medications and different regimens," Brenda said.
Still, the Freis consider themselves lucky. Anthony said that he sometimes forgets he has asthma because his preventive care only takes 30 seconds a day and he experiences only about one troublesome bout a year.
"Our children are generally very healthy," Brenda said, adding that the youngsters are involved in baseball, swimming and dance classes. "Occasionally, they may need to have short-term limitations in physical activities if (they are) having a viral-triggered flare-up."
Common problem
Asthma is the third-ranking cause of hospitalizations among children under the age of 15, according to the American Lung Association of Kansas. Asthma may account for as many as one in six of all pediatric emergency room visits.
The good news, the Freis said, is that asthma can be controlled. Early warning signs of asthma that parents and children can identify include:
anxious or scared look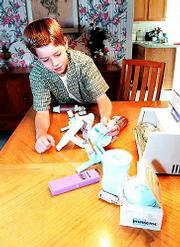 cough; coughing when the child has no cold; clearing of throat a lot
unusual paleness or sweating
flared nostrils when the child tries to get some air
pursed lips when breathing
fast breathing; noisy or difficult breathing; wheezing, however light
vomiting
hunched-over body posture; the child can't stand or sit straight and can't relax
restlessness during sleep
the notch above the child's adam's apple sinks in as they inhale
spaces between the ribs sink in when the child inhales.
If asthma is suspected, a visit to the doctor's office is in order. But parents need to make sure their child's physician is up-to-date on current asthma treatments.
"Parents need to recognize the importance of finding the right physician," Brenda warned. " And seek care elsewhere if you don't feel you're not receiving the right care. It's unfortunate how often asthma goes undiagnosed or misdiagnosed."
According to the Freis, other important tips for parents are:
Get educated about the appropriate treatment for asthma. Preventive medicines can be helpful.
Follow through with treatment and teach your children how to care for their asthma. "Kids even (as young as) age 5 can be taught to use inhalers responsibly," Mark said.
"Parents need to recognize the importance of finding the right physician And seek care elsewhere if you don't feel you're not receiving the right care."Brenda Frei
Be observant of your child's symptoms as well as triggers, and then respond quickly to those triggers. Triggers may include exercise; viral cold; pollution; cold air; allergens, such as grass or mites; coughing; yelling and laughing; and some medicines and chemicals.
Communicate clearly with child-care providers and school personnel as needed.
The Freis said the factors causing asthma vary from person to person. Recent articles regarding research have suggested the onset of childhood asthma may be caused by having a pet in the house, not breast-feeding, obesity in the mother, low-birth weight, parental smoking and even early menses in the mother.
Both those findings don't fit with the Freis' case.
"None of these factors fits for us," Brenda said, "instead it appears to be an inherited factor."
What is asthma?
Asthma is a condition that makes it difficult to breathe. The lining of the lungs and airways becomes sore and inflamed, sometimes during exercise, because of allergens or irritants in the air.Although someone with asthma can lead a normal life, asthma is a chronic condition. This means that asthma requires constant attention, even when a person doesn't feel bad.
What causes asthma?
No one knows exactly. The environment may play a role.
Who gets asthma?
Asthma is not contagious. Anyone can get asthma, at any age. It is more prevalent in boys than girls.
What things trigger asthma?
It can be different for every person. Some common irritants are plant and tree pollen, changes in weather or temperature, cigarette smoke, dust, exercise, furry or feathered animals, perfumes, cleaners or other fumes like vehicle exhaust, pesticides and paint, cockroaches, and mold and mildew.
Can asthma be cured?
There is no cure for asthma. Children do not outgrow asthma, although their lungs may become stronger as they grow. Asthma can be controlled and episodes can be prevented or lessened.
How prevalent is asthma in Douglas County?
According to statistics compiled in 1966 by the American Lung Association of Kansas, Douglas County reported 3,842 cases of adult asthma and 1,161 cases of pediatric asthma.Current statistics indicate 96,000 adults and 42,600 children in Kansas have asthma.
Where can I get more information about asthma?
The American Lung Association of Kansas, 4300 Drury Lane, Topeka, provides information on asthma and its management. You can call them at (800) LUNG-USA or (785) 272-9290. The association's Web site is
www.kslung.org
.
Copyright 2018 The Lawrence Journal-World. All rights reserved. This material may not be published, broadcast, rewritten or redistributed. We strive to uphold our values for every story published.