Douglas County's canvassing board Friday made few changes from the unofficial results of Tuesday's primary election.
The board received 399 provisional ballots that were not counted Tuesday because they were challenged for some reason.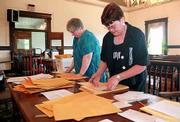 Under the National Voter Registration Act, people are allowed to vote and their ballots are placed in envelopes, with reasons written on the envelopes why the ballots were challenged.
County Clerk Patty Jaimes said the majority of the ballots were questioned because people voted at the wrong precinct or they weren't affiliated with a party and declared Republican or Democrat on Tuesday.
"I've stressed so much on Election Day that people can't declare their party," she said.
In the end, Jaimes recommended that the canvassing board count 341 of the provisional ballots. The final results won't be known until the board meets again next Friday.
Then, the board will decide the outcome of two Republican precinct committee races that were tied in Tuesday's election.
The canvassing board's final report Friday showed that Delbert Baxter had 57 votes and Gary Saathoff had 58 votes for precinct committeeman in the Fourth Precinct, Fourth Ward. However, William Buckles Jr. and Harold Pearce still remain tied with 16 votes each for precinct committeeman in the First Precinct, Seventh Ward.
After counting challenged votes in another race, the board on Friday broke a tie for the First Precinct, First Ward with a coin toss.
Copyright 2018 The Lawrence Journal-World. All rights reserved. This material may not be published, broadcast, rewritten or redistributed. We strive to uphold our values for every story published.