Dragging thousands of pounds behind them, farmers and tractor enthusiasts from around the region took over the rodeo arena at the Douglas County 4-H Free Fair on Thursday night to show off the pulling power of their antique tractors.
Mike McPeek, Lone Jack, Mo., has been competing in tractor pulls for three years. He brought his red, F-20 Farmall tractor all the way to Lawrence to visit with old friends.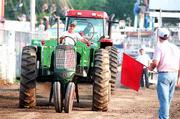 "I came to socialize and meet people," McPeek said from atop his stock tractor. "I hope we all can win."
Pull organizer Mike Bray said the dozens of competitors each paid $6 a pull to run. Hundreds of spectators milled around the metal bleachers as one tractor after the next pulled the "Kansas Draggin' Wagon," a sled that increases the weight being pulled as the tractor drags it down the field.
"As it pulls the sled, the box on top moves forward, adding weight to the pan on the bottom and to the trailer," Bray said. "Whoever goes the farthest wins."
To be classified "antique," the tractor must have been built before 1958. The tractors are divided into different divisions -- tractors with stock parts from the year they were made to tractors with three times their original horsepower.
During the pull, at the ticket booth nearby, fair board organizers were selling tickets to tonight's demolition derby hand over fist.
"That's probably one of the most popular events of the entire fair," fair board member Ron Baker said.
At $10 each, more than 1,200 tickets had been sold Thursday evening for tonight's crashfest.
Regular events such as 4-H exhibit viewing and carnival rides will continue throughout the day. At 7 p.m., the demolition derby will take over the rodeo arena.
Copyright 2018 The Lawrence Journal-World. All rights reserved. This material may not be published, broadcast, rewritten or redistributed. We strive to uphold our values for every story published.