Mclouth — Families can step back in time this weekend, watching blacksmiths forge tools from hot iron or coal-powered steam engines drive a threshing machine.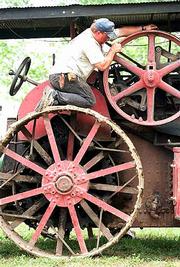 The 43rd annual Steam Engine Show and Threshing Bee begins today with a 10 a.m. threshing demonstration. The grounds, located on U.S. Highways 92 and 16, will be open from 7 a.m. to midnight through Sunday.
Weekend activities include a blacksmith shop, flea market, petting zoo, live music and more, said Melinda Farr, secretary of the Heart of America Antique Steam Engine and Model Assn., which helped start the annual event.
"My dad (B.J. Robinson) is president this year and has been to all of them. I wasn't born before the '64 show, so that was the only one I missed," she said. "It's really a good time."
History comes alive, Farr said, as more than 125 antique engine enthusiasts bring their tractors, cars and trucks to the event. An antique equipment parade starts at 1:30 p.m. daily.
"Exhibitors come from all over northeast Kansas and we have some from Iowa, Nebraska and Missouri," she said. "We draw them from all over."
New this year is the antique garden tractor pull, which starts at 11 a.m. Sunday.
"We had a group in Lawrence that was interested in putting that on and they approached us. We thought it was a good idea and decided to try it," Farr said.
The small antique tractors are similar to today's riding lawnmowers, she said.
Other attractions include an antique sawmill, shingle mill and a Corliss steam engine with a five-ton flywheel. Farr said the Lawrence Paper Company donated the engine several years ago.
"Everybody enjoys watching that," she said.
From 8 p.m. to midnight today, people can dance to country music by Arnie Johnson & the Midnight Special. Flint Hills Thunder will play the same hours Saturday.
At 5 p.m. Sunday is a draft horse pull.
"They're big horses that are harnessed in teams of two," Farr said. "They have a sled that they pull a certain distance, and we keep adding weight to see who will be the winner. Last year, we had 15 to 16 teams."
Admission is $6 per person for all three days. Children under 12 are admitted free when accompanied by an adult. On-site camping is available for $5.
Farr said people should "just come on out and try to take in all the activities."
Copyright 2018 The Lawrence Journal-World. All rights reserved. This material may not be published, broadcast, rewritten or redistributed. We strive to uphold our values for every story published.