Philadelphia — George W. Bush appealed to the nation Thursday night to "grant me a mandate" to lead and break the cycle of partisan Washington feuding. "After all the bitterness and broken faith, we can begin again," he said.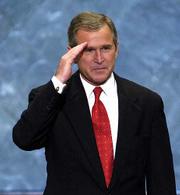 Bush hoped to make history by becoming the first presidential son since John Quincy Adams to follow his father into the White House.
Bush told cheering delegates he would help "end the politics of fear" and promised to work together with Democrats on pressing problems, including shoring up the Social Security system and more accountability in education policy.
The cheers grew loudest when he vowed to pursue tax fairness and anti-abortion laws. Bush spoke for 52 minutes.
The Republicans ended their four-day choreographed convention with a dazzling blizzard of confetti, red-white-and-blue balloons and bursts of fireworks inside the hall.
Bush was joined on stage by his wife, Laura, running mate Dick Cheney and his wife, Lynne, dozens of Bush family members -- and one-time rival John McCain.
The convention hall erupted in applause and cheers when he paid special tribute to his mother and father, whose bid for a second presidential term was thwarted in 1992 by President Clinton.
Bush pledged to work to reduce nuclear arsenals and to put into place a national missile defense system "at the earliest possible date."
Despite Bush's calls for bipartisanship, he managed to get in a few digs at his rival, Vice President Al Gore, and Clinton.
"Our current president embodied the potential of a generation. So many talents. So much charm. Such great skill. But, in the end, to what end? So much promise, to no great purpose."
Democrats reacted even before Bush went on stage.
Joe Andrew, Democratic National Committee co-chairman, said, "Bush and Cheney have been presenting an air-brushed version of themselves all week long. But we know that the true colors are coming out. It's still the same old nasty, old guard Republican party."
Of Gore's hopes to extend Democratic rule in the White House to a third term, Bush said, "Not this time, not this year. This is not a time for third chances, it is a time for new beginnings."
And in a refrain of disdain, Bush repeated four times:
"They have not led. We will."
The two-term Texas governor cast his relatively few years in public service as a plus, saying he "may lack the polish of Washington" but at the same time he doesn't "have a lot of things that come with Washington experience."
"I don't have enemies to fight. And I have no stake in the bitter arguments of the last few years. I want to change the tone of Washington to one of civility and respect," he said.
He mocked Gore for calling his policy proposals "risky."
In Gore's view, according to the Republican nominee, the moon launch would have been a "risky rocket scheme." And Edison's light bulb would have been a "risky anti-candle scheme."
And delegates howled in delight when Bush poked fun at Gore for claiming to have invented the Internet.
The GOP nominee scolded the Democrats for not spreading the nation's prosperity to more people.
"Instead of seizing this moment, the Clinton-Gore administration has squandered it," he said in a variation on running mate Dick Cheney's assertion the night before of "opportunities squandered."
His prime-time speech was aimed far beyond his well-established GOP base. It sought to build support among independents, Democrats, swing voters, minorities and young voters.
While Bush has said throughout his campaign that the Republican Party has not always been as open as it should be, Bush told delegates, "We are now the party of ideas and innovation ...The party of idealism and inclusion ...The party of a simple and powerful hope."
"My fellow citizens, we can begin again," he said. "After all of the shouting, and all of the scandal. After all of the bitterness and broken faith. We can begin again."
Bush acknowledged the current debate over how to spend the government's surplus. He has advocated a part of it for a tax cut.
One of his biggest applause lines came when he declared: "The surplus is not the government's money.The surplus is the people's money."
"We will seize this moment of American promise. We will use these good times for great goals," he said.
Copyright 2018 The Associated Press. All rights reserved. This material may not be published, broadcast, rewritten or redistributed. We strive to uphold our values for every story published.