Douglas County residents changing addresses in the annual late-July/early August exodus are leaving behind more than old sofas at their old rental units.
Pets, too, are being abandoned, and the practice is weighing heavily on the Lawrence Humane Society.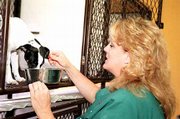 Caring for 157 dogs and more than 200 cats, the Humane Society's shelter was at capacity Wednesday. With so many animals coming in, shelter officials have been forced to make owners wait to drop off pets.
"This is probably one of the most frustrating parts at our job. They move from a place that allows pets to a place that doesn't allow pets," executive director Midge Grinstead said. "Since we are at capacity, we have been taking reservations for the pets. It has been working pretty well, except that people are abandoning their animals, leaving them in apartments or just letting them loose."
The Humane Society has picked up twice as many injured animals than normal in the last few months, and more strays have found their way to the society's kennel.
"We had three dogs bought to the shelter Saturday. We said we can take them on Monday," Grinstead said. "In separate incidents, one was dead, hit by a car, another was loose and we brought it in. Instead of taking (the dogs) to another shelter or waiting two days, they dumped them."
In 1996, the Humane Society constructed a shelter that was nearly double in size of its old space. But that hasn't stopped the moving-season overcrowding.
This year seems especially trying.
Usually able to rely on donations, the Humane Society has been forced to deplete its budget to purchase the 50 pounds of kitten food, 100 pounds of puppy food, 150 pounds of dog food, 200 pounds of cat litter and 24 rolls of paper towels needed daily to care for the animals.
Although Grinstead grimaces at the thought of euthanasia, the Humane Society does put animals to sleep if they are ill, have behavioral problems or if there is no space for them. Even with an adoption and return-to-owner rate of 85 percent, the agency has been forced to put down some of the pets.
"It's not just the students. They get blamed a lot, but we see a lot of families bringing us animals," she said. "I don't understand (people) that adopt and then get a new animal for every home they are in."
Anyone interested in adopting a stray or abandoned pet may visit the shelter at 1805 E. 19th St. Prospective pet owners must fill out an application stating that they own their own property or that their landlord permits pets. The adoption process takes about 24 hours, Grinstead said.
Copyright 2018 The Lawrence Journal-World. All rights reserved. This material may not be published, broadcast, rewritten or redistributed. We strive to uphold our values for every story published.