American Eagle Outfitters is in negotiations to bring a new store to downtown Lawrence, one that could be open in time for this year's holiday shopping season.
The growing apparel company, which already has plans for a $45 million distribution center in the East Hills Business Park, is eyeing the former home of the Toy Moon store at the north end of Massachusetts Street.
The location would follow through with company officials' desire to have a retail presence downtown.
"We're still working on it," said Jeff Smith, vice president for real estate at American Eagle's headquarters in Warrendale, Pa. "Nothing's been culminated, but we're hopeful. If everything were to come together, we could be open later this year."
No deal has been signed, but American Eagle representatives were in town a few weeks ago to explore options, including the former Toy Moon.
To accommodate American Eagle, the two-story building could be returned to its original single-level configuration, said Bob Schulte, a partner in Bridgewater LC, which owns the building. It would be similar to the look generated by the high, steel-trussed ceilings inside nearby Waxman Candles.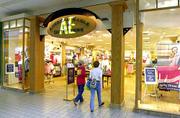 "Whether it's American Eagle or somebody else, I think it would be a great building for somebody," Schulte said.
In March, American Eagle announced plans for building a 402,000-square-foot warehouse and distribution center in the East Hills Business Park.
At the time, officials said they also would open a store in Lawrence, likely in the downtown area. Several Realtors and developers including representatives of Downtown 2000, which is poised to build new retail space in the 900 block of New Hampshire Street attended the announcement in hopes of landing an eventual deal.
While Smith declined Wednesday to discuss specific Lawrence sites for a possible store, he did acknowledge that one could be in place by December.
American Eagle sells casual apparel, accessories and footwear marketed for men and women between the ages of 14 and 34. It has 505 stores in 46 states and the District of Columbia, including shops in Topeka and Overland Park.American Eagle had sales last year of $832.1 million, up 42 percent from $587.6 million in 1997. First-quarter sales were $178 million, up 22 percent from $145.4 million during the first three months of 1999.
"We're under negotiations," Smith said. "If we couldn't get in before Thanksgiving, we wouldn't be looking to open this year."
Two other national retailers are scheduled to open in the block by Thanksgiving. Gap currently at 647 Mass. will relocate to the other side of Abercrombie & Fitch, into a new space four times the size of the existing store. Eddie Bauer will open its first Lawrence store between the new Gap and M&M; Office Supply.
A new building already is under construction around the corner for Talbots, bolstering the block's standing as a haven for national retailers downtown.
"When you look around the country, you see national retailers clustering," Schulte said. "They must do it for a reason. If they can do that here, great."
Copyright 2018 The Lawrence Journal-World. All rights reserved. This material may not be published, broadcast, rewritten or redistributed. We strive to uphold our values for every story published.