Lawrence residents and politicians gathered Monday evening to welcome 20 Japanese students and celebrate 10 years of cultural exchange with Hiratsuka, Japan.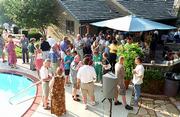 The Lawrence Sister Cities Advisory Board sponsored its annual picnic at the home of its chair, Douglas County Commission candidate Bob Schumm.
Mickey and Berta Woolard head the Friends of Hiratsuka and have led the Japanese teen-agers on trips from Topeka to Worlds of Fun during the week of their visit.
"They have home stayed with students and families who have gone over before," Mickey Woolard said. "They get to see a cross-section of cultural and family life in Lawrence and Kansas. By doing home stays, they have experienced everyday life here."
Schumm, who faces Jere McElhaney today for the Republican nomination to the 3rd District Douglas County Commission race, briefly spoke to the more than 100 attendees before introducing Mayor Jim Henry.
"Just a quick public service announcement: please vote tomorrow," Schumm said. "The food is on, and have fun."
Henry honored Bob Walters, a former Lawrence mayor, for his support of the advisory board and the city's relationships with Hiratsuka and Eutin, Germany.
"I'm so glad that 10 years ago, people had the foresight and wisdom to see this is the way to establish world peace," Henry said.
Kansas University Spanish professor Michael Doudoroff recently joined the advisory board and is working to build a third sister city relationship for Lawrence.
"We were looking for a sister city and thought one in a Spanish-speaking country would be of significant interest to Lawrence residents," Doudoroff said. "Last winter, a group came from Ronda, Spain, to conduct exploratory discussions. Things develop on a person-to-person basis."
In October, a delegation from Lawrence will visit Ronda, and Doudoroff hopes the cities' relationship can be officially cemented later in the fall.
Copyright 2018 The Lawrence Journal-World. All rights reserved. This material may not be published, broadcast, rewritten or redistributed. We strive to uphold our values for every story published.