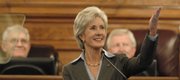 Kathleen Sebelius is the nominee for Secretary of Health and Human Services in Obama's Cabinet. She has served as Kansas' governor since 2002 and before that was insurance commissioner and a state representative.
Two Kansas political figures are throwing their support behind Vice President Al Gore in his bid for the Democratic nomination for president in the 2000 race.
Former Gov. Joan Finney and current Kansas Insurance Commissioner Kathleen Sebelius announced their support for Gore last week.
The endorsements came as Al and Tipper Gore launched "Women for Gore" on June 8 in Washington, D.C.
More than 4,500 pledges of support from women leaders in every state were announced, according to the Gore 2000 campaign.
Copyright 2018 The Lawrence Journal-World. All rights reserved. This material may not be published, broadcast, rewritten or redistributed. We strive to uphold our values for every story published.