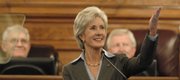 Kathleen Sebelius is the nominee for Secretary of Health and Human Services in Obama's Cabinet. She has served as Kansas' governor since 2002 and before that was insurance commissioner and a state representative.
Robert Kennedy Jr. has been tabbed for the No. 2 spot in the Kansas Insurance Department.
For the past week, several employees in the Kansas Insurance Department have been showing up at Robert L. "Bob" Kennedy Jr.'s door with questions.
Kennedy, a Lawrence resident who is the new assistant commissioner of insurance, said most were looking for guidance on some matter they had put on hold for the past month, waiting for new Insurance Commissioner Kathleen Sebelius to take office.
Answering those questions has taken up a good deal of his time since Monday, when Sebelius took office and brought her new staff with her.
"It's taken me away from my to-do list," Kennedy said.
However, Kennedy said, he and others coming in with new ideas for the department are eager to put them in place.
"It's been fun," Kennedy said. "I think that most people here are really, really anxious for a change and a step up to the 20th century."
Kennedy, 48, is coming back to familiar territory.
He served as head of the Consumer Assistance Division in the insurance department from 1982-1985. After that, he ran the Government Affairs Division of American Family Insurance Group in Madison, Wis., for nine years (1985-1993) with responsibilities in 12 states, including Kansas.
Kennedy is a chartered property and casualty underwriter, a licensed attorney and was a board member of the Kansas Auto Insurance Claim Board from 1986 to 1994.
"As former head of the Consumer Division for the Kansas Insurance Department, Bob has an in-depth knowledge of how the department works," Sebelius said in a prepared statement this week, announcing Kennedy's new position.
Sebelius said Kennedy's nine years with a private insurance company gives him "important industry perspective and experience."
"He has extensive experience in state insurance regulation, as well as years of participation in the National Association of Insurance Commissioners," she said. "This combination of work experiences will help make Bob an excellent assistant commissioner."
Kennedy said he expected Sebelius to make many changes in the office, which had been held by Republicans for the last 100 years. Sebelius, a Democrat, defeated former Insurance Commissioner Ron Todd in the Nov. 8 election.
"She's made a number of changes already," Kennedy said.
Sebelius interviewed every supervisor in the department and kept about half of them after the transition, Kennedy said.
The department has had a strong reputation around the country for its professionalism, he said.
"In some ways, that makes the job much, much easier," he said.
Kennedy lives in west Lawrence with his wife, Sherri. They have a daughter, Shannon, a sophomore at Kansas University, and a son, Rob, a freshman at Johnson County Community College.
Copyright 2018 The Lawrence Journal-World. All rights reserved. This material may not be published, broadcast, rewritten or redistributed. We strive to uphold our values for every story published.