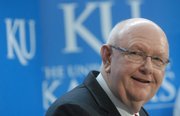 KU's 16th chancellor, Robert Hemenway, announced Dec. 8, 2008, that he would retire at the end of the current academic year. He's been chancellor for 14 years.
Robert Hemenway pledged Saturday to commit himself wholly to the colossal job of serving as Kansas University chancellor.
Hemenway, chancellor of University of Kentucky's main campus in Lexington, was unanimously selected by the Kansas Board of Regents to become the 16th chancellor in KU's 129-year history.
"We pledge every ounce of being to try to live up to the expectations that they have for us," said Hemenway, introduced with his wife, Leah. "I'll be very honest with you; I consider this the best job in the country."
Hemenway, 53, was hired because he convinced regents he could handle the vast work load, including intense fund-raising demands, leadership of the KU Medical Center in an era of uncertain health-care reform, high-profile intercollegiate athletic duties and multiplying interest-group pressures.
"It was a very difficult decision," said Frank Sabatini, regents' chairman. "He had the vision that we were looking for. Here is a man who has obtained a Ph.D. at 24. He's a researcher and a scholar."
The 7-0 vote by the board -- regents Karen Krepps and Gene Bicknell were absent -- ended the search for a successor to Gene Budig. He resigned last July after 13 years as chancellor to become president of professional baseball's American League.
Hemenway expects to assume his duties at KU before July 1. He will earn a base salary of $160,000 annually. The compensation package also includes the chancellor's campus residence, an $18,500 residential spending allowance, a $15,000 expense account and a leased vehicle. His salary at UK is $144,000.
Four people nominated by a 17-member KU search committee in December were interviewed this weekend by regents at the Adams Alumni Center.
Here are the other nominees and reasons cited by participants in the search for their unsuccessful bids:
Gerald Turner, president of the University of Mississippi. His inability to explain why the Ole Miss football program was hit with NCAA probation in 1986 and last November didn't sit well with regents. He came across as arrogant. Turner withdrew from consideration after interviewing Friday with regents.
Lois DeFleur, president of the State University of New York's campus in Binghamton. She didn't have an especially strong interview with regents and couldn't overcome doubts about her ability to make the transition from SUNY-Binghamton to KU, which had dramatically different missions.
Milton Glick, provost and senior vice president at Arizona State University. Preferred by some for his strong commitment to faculty, but disliked by others for the same reason. Inexperienced at communicating with external constituencies, such as alumni and legislators.
Predecessors' endorsements
Interim KU Chancellor Del Shankel, who will remain on the job until Hemenway's arrival, endorsed the regents' selection. Shankel also said the other candidates had "significant strengths."
Budig, KU's chancellor from 1981-94, said Hemenway was a person of high integrity and unusual promise.
"Like so many others, I love the University of Kansas and want its new chancellor to meet with unprecedented success," Budig said. "We look to the future with genuine optimism."
Charles Wethington, president of the University of Kentucky, said Hemenway had provided fine leadership as chancellor of the Lexington campus. In UK's system, three chancellors report to Wethington.
"He has wanted to be a chief executive officer of a university, and I predict he will be a successful one. We will miss him," he said.
Here's a summary of what people had to say about Hemenway: good communicator, first-rate scholar, not a micromanager, committed to diversity, good listener, articulate, relaxed, enjoys people, works hard, sense of humor.
"He tells me that's how he can survive the stress because he can enjoy the humor of the various conflicts that do arise," Sabatini said.
Hemenway, a Democrat, said he wasn't a student radical while a college student. To this day, he prefers not to devote energy to partisan politics.
"My politics are the politics of higher education," he said.
Hemenway has been a UK chancellor since 1989. He's responsible for 11 academic colleges with an enrollment of 21,000 students and 1,000 faculty.
During his tenure, UK increased the number of National Merit Scholars enrolling in the freshman class from 12 to 82, raised the average ACT score of entering freshmen from 23.9 to 24.8 and recorded a 26 percent increase in minority enrollment.
Hemenway led an affirmative-action program that resulted in the hiring of 48 tenure-track black faculty and 101 women faculty.
During a news conference, Hemenway said his vision of higher education had evolved from his days as a youth in Nebraska to his time in Kentucky. The process of improvement for a university is also one of evolution, he said.
"I have a lot of experience in institutions like KU," Hemenway said. "I know what causes them to work and be effective. I was a faculty member for a long time. I understand the faculty culture. I've always been a student-oriented person and so I understand some of the concerns of students."
Like his predecessors -- Budig and Shankel -- Hemenway expects to continue teaching.
"I find that it is the one way that an administrator can maintain contact with what the enterprise is about," he said.
Hemenway said it was a thrill to witness the collective energy and intelligence of a university making a difference in society. Recruiting minority students and faculty is one way to build a better world, he said.
"If you want a democracy in which all the stake holders in society have a part, clearly it's incumbent upon us to recruit minority faculty and minority students," he said.
Hemenway played football (third-string linebacker) one year while at Hastings College. He learned to appreciate the value of college sports.
"Athletics can embody many of the hopes and goals, not only of individuals, but of larger segments of society," he said. "They become the focal point for much of the pride that a given state wants to invest in its young people."
Higher education runs in Hemenway's family. His wife is a part-time instructor at Lexington Community College. One daughter, Robin, is a KU graduate student.
Hemenway said UK wouldn't be affected by his lame-duck status.
"I've got a meeting at 7 o'clock Monday morning and I'm going to go back to Kentucky and try to make University of Kentucky the best possible university it can be as long as I'm there. They'll continue to get my 70 hours a week."
Copyright 2018 The Lawrence Journal-World. All rights reserved. This material may not be published, broadcast, rewritten or redistributed. We strive to uphold our values for every story published.