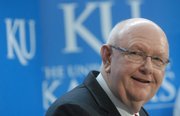 KU's 16th chancellor, Robert Hemenway, announced Dec. 8, 2008, that he would retire at the end of the current academic year. He's been chancellor for 14 years.
Robert Hemenway is an outgoing chancellor in more ways than one, faculty members and administrators at the University of Kentucky said.
"He places a lot of emphasis on getting around and meeting people," said Bradley Canon, UK political science professor and member of the faculty senate council, about the departing chancellor of Kentucky's main campus. "He's conducted brown-bag lunches with students and town meetings with faculty and staff where people can just go and sound off on any variety of subject.
"You're getting a guy who'll work 70 hours a week and get out and talk to people."
Hemenway was chosen Saturday as the 16th chancellor of Kansas University by the state Board of Regents.
David Stockham, dean of students at Kentucky, called Hemenway "very energetic, very bright and certainly available to people." He said Hemenway had performed well at UK.
"Are there any glaring shortcomings? Not in my perception," Stockham said.
Stockham and other administrators said Hemenway would be remembered for opening the door to more minority students and faculty. During his five years as chancellor, the university hired 48 tenure track black faculty members, including two deans. Minority enrollment increased 26 percent.
Rhoda-Gale Pollack, fine arts dean, said the chancellor's efforts made a direct impact on the quality of her department. Curriculum has broadened in the last two years to include courses in African and African-American art history, for instance.
Pollack described Hemenway as an even-handed administrator who "not only listens well but then accepts the things you say."
"I've always found that when I have a good, rational argument, I can change his mind," she said.
Thomas Blues, an English professor who befriended Hemenway in the mid-1960s when both men joined the Kentucky staff, said he admired Hemenway for his dedication to teaching.
"He's always taught one course a year," Blues said. "And that's a pretty remarkable achievement for somebody who's in central administration."
Canon said Hemenway's zeal for teaching resulted in programs that shifted faculty members' efforts from research to the classroom, especially lower-division courses. While such programs made the university more friendly to undergraduates, he said, they've come at a price.
"I've been bothered by it," Canon said. "I understand what he's trying to do, and I don't see easy solutions. But I think it has to effect the graduate program somewhat negatively."
Copyright 2018 The Lawrence Journal-World. All rights reserved. This material may not be published, broadcast, rewritten or redistributed. We strive to uphold our values for every story published.