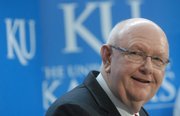 KU's 16th chancellor, Robert Hemenway, announced Dec. 8, 2008, that he would retire at the end of the current academic year. He's been chancellor for 14 years.
A faculty representative looks forward to leadership from KU's incoming chancellor.
Robert Hemenway's selection as Kansas University chancellor has special meaning for Philip Barnard.
An American literature scholar, Barnard studied under Hemenway at the University of Kentucky in the 1970s, forging a teacher-pupil relationship that would prompt Barnard to attend graduate school.
"What he was doing was progressive and struck me as exciting," said Barnard, now an associate professor of English at KU. "He made it seem to me I could do things that were exciting."
Excited was the buzzword Saturday among many members of the KU community after the new chancellor pledged to improve the university each day as part of his deeply-held commitment to higher education.
"I'm very excited and optimistic about his tenure here," said David Ambler, KU's vice chancellor for student affairs. "I'm very impressed. Dr. Hemenway demonstrated a command of every aspect of university life, including a concern for students. I was impressed with his knowledge."
Two areas of Hemenway's background particularly interested Sherman Reeves, KU's student body president: a strong academic commitment to diversity, and open lines of communications with students.
Hemenway, who wrote an award-winning biography of a black novelist and folklorist, helped boost minority enrollment at Kentucky 26 percent and administered an Affirmative Action program that hired 48 tenure-track African-Americans, including two deans.
He also started a weekly brown-bag lunch series, giving students a chance to meet, talk and eat with the boss.
"Chancellor Budig did some great things for KU, but he had a different style," said Reeves, who served on the chancellor's search committee. "It's really refreshing, hopefully, to have a leader that values that kind of time commitment.
"And it's not just a matter of talking to some students. They go home and tell their parents, and then they tell their friends, and then they tell their state legislators. Little things like that can really pay off."
Considering the four finalists for chancellor, Hemenway's work at Kentucky most closely resembled the mission at KU, said T.P. Srinivasan, president of KU's faculty senate, who also noted Hemenway's "excellent" track record on undergraduate education and diversity.
"He promises leadership, not just management, and promises to re-create the university for the 21st century," Srinivasan said.
Rep. Barbara Ballard, D-Lawrence, said she didn't know much about Hemenway's background, but did know he would be faced with tough issues in the Kansas Legislature: raising salaries for faculty and staff, keeping tuition affordable and pushing for qualified admissions.
"When someone is new, there's always the unknown," said Ballard, associate dean of student life at KU. "I look forward to meeting him and talking to him and finding out what his priorities are."
Ed Meyen, executive vice chancellor, described Hemenway's academic and administrative credentials as excellent: "He will be an asset to the University of Kansas," he said, in a prepared statement.
Copyright 2018 The Lawrence Journal-World. All rights reserved. This material may not be published, broadcast, rewritten or redistributed. We strive to uphold our values for every story published.