Audio Clips
KU's Ron Loneski reflects on No. 800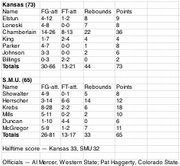 Dallas, Tex. — A sober and grim Kansas University basketball team with a 22-2 record was one-fourth of the distance along the route to the NCAA championship here today, after a heart-stopping 73-65 overtime victory over a gallant Southern Methodist outfit in the first round of the Regional tournament Friday night.
It was S.M.U.'s first loss in 36 straight games on the home court and left the hustling Mustanges(sic) with a 21-4 mark for the year. A capacity 8,600 throng watched the game, carried in the Lawrence area by TV, and the Texas audience got a little ugly near the end as its beloved Mustangs slipped.
Oklahoma City Tonight
Kansas will play surprise-springer Oklahoma City at 9 o'clock tonight for the tourney championship and the right to advance to the NCAA semi-finals and finals March 22 and 23 in Kansas City. Oklahoma City, tall, tough and experienced, upset darkhorse St. Louis 75-66 in Friday's other opening round struggle.
S.M.U. and St. Louis will meet at 7 tonight for third place in the local regional.
All-American Wilt Chamberlain paced Kansas with 36 points in the S.M.U. thriller Friday. The game saw Kansas lead 33-32 at the half, and it produced a 59-all deadlock at the end of regulation play. But it was Co-Capt. Gene Elstun's clutch 12-foot jumper with only 25 seconds left that allowed K.U. to come from behind and move into the extra five-minute period. Elstun was K.U.'s second high scorer with 9 points, and he turned in a brilliant job under the offensive boards.
Elstun Shot Beats I-State
It was Gene's 20-foot jump from the left of the keyhole that let K.U. edge Iowa State 58-57 in the opening round of the Big Seven Tournament, which Kansas eventually won, last December. So perhaps Elstun's Friday bucket was an omen of even better things to come.
All-American Jim Krebs was high for the Mustangs with 18 points, mostly off of soft-right handed hooks even the soaring Wilt couldn't block -- although the Big Dipper did get some goodies. But the S.M.U. effort was hampered severely when Krebs fouled out with 5:06 to go and his team leading 57-54 after he'd scored an easy lay-in. It was nip and tuck to the wire, then, with Elstun's calm poke giving K.U. new life after it had trailed the entire time following Krebs' departure. The Mustangs tried almost successful ball control to fashion the victory.
Other Scorers in Game
Rick Herrscher scored 12 for the Ponies, No. 6 man Bob McGregor, Krebs' sub, hit 11 and guard Bobby Mills canned 10. Co-Capt. John Parker was third high for K.U. with eight tallies.
Mills scored a lay-in early in the second half to give S.M.U. its first lead of the night, 38-37. Kansas leaped off to a 15-4 advantage as Elstun, Ron Loneski and Chamberlain set a hot early pace and threatened to break it wide open. But the fiery Mustangs refused to collapse and with the hooking Krebs and the driving Mills showing the way roared back to slice the gap to a point at the half, 33-32.
After S.M.U. moved ahead 38-37, the score was tied five times and the lead changed hands nine times during regulation play.
S.M.U. stall effective
Chamberlain scored one free throw for his 26th point after Krebs was waved to the bench and it was 57-55, Ponies. S.M.U. began a stall with 4:#0 to go, knowing it was hurt seriously on the boards without the clever 6-8 Krebs. Both teams had chances to do something decisive but the pressure was too much. With 2:10, Chamberlain tied it at 57-all on a lay-in.
Guard Maurice King of Kanas(sic), however, fouled Mustang Ned Duncan and the junior college transfer made both shots to make it 59-57 with 49 seconds left. That set the stage for Elstun's key shot. S.M.U. tried a desperation fling with seconds left, but King blocked it and came down with the ball as the horn sounded. Thus history didn't repeat itself.
K.U.'s only two losses this year came at the horn -- 39-37 by Iowa State and 56-54 by Oklahoma A&M;, both on the victors' courts.
Jays Get Busy Fast
Kansas lost no time in salting the crucial game away in the Krebs-less overtime. It outscored the home-standing scrappers 14-6. Chamberlain got eight of those points, King four and sub guard Bob Billings two.
The Jayhawks got themselves in hot water repeatedly because of careless passes and traveling infractions while S.M.U. didn't make many errors. At one point, Chamberlain was called for goal-tending on a highly questionable play. In the second half, disgruntled Mustang rooters tossed coins and debris onto the court. The capacity crowd was plainly miffed as the long Pony home skein was shattered by the hot and cold Kansans, who'll need a lot more consistency to beat fired-up Oklahoma City tonight. K.U. beat O.C.U. in the opening round of the 1953 NCAA Regional at Manhattan, Kas.
Kansas shot 46 per cent on 30 conversions in 66 tries while S.M.U. shot 32 per cent on 26 of 81 attempts. It was from the free throw line that K.U. again was hurt badly. K.U. could make only 13 of 21 gift shots while S.M.U. cashed in on 1 of 17.
The victory ran K.U.'s NCAA record to 11-3 and its lead over the Mustangs to 10-2.
Same Starters Probable
Coach Dick Harp probably will call on the same starting five tonight that got the nod against S.M.U. -- 6-3 Elstun and 6-5 Loneski at forwards, 7-0 Chamberlain at center, 6-2 King and 5-11 Parker at guards.
Coach Abe Lemonds of Oke City has a huge, all-veteran team -- 6-5 Lyndon Lee and 6-6 Roger Holloway at forwards, 6-10 Hubert Reed at center, 6-5 Larry Bradshaw and 6-0 Cecil Magana at guards, with "swing man" 6-5 Leon Griffin to move into the lineup when the club falters. That same group was beaten by S.M.U. in the 1956 Regional finals at Lawrence.
O.C.U., with a 19-8 record against strong foes, came along fiercely at the end of the campaign and will severely test the Big Seven champions. The Chiefs are an at-large club not competing in any league. They are making an unprecedented sixth straight appearance in NCAA play.
Copyright 2018 The Lawrence Journal-World. All rights reserved. This material may not be published, broadcast, rewritten or redistributed. We strive to uphold our values for every story published.