PO BOX 3133, Lawrence, KS 66046
Events / KU Student Farm Veggie Lunch!!!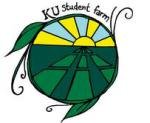 Thursday, Aug. 21, 2014, 11:30 a.m. – 1 p.m.
Hosted by the KU Student Farm, 3rd Thursdays, 11:30am-1pm: Veggie Lunch.
The farm has teamed up with local wholefoods caterer, Raven Naramore to present a wholesome vegetarian meal every 3rd Thursday of the month, except in March. Please come and support Veggie Lunch and invite your friends. Information about the farm will be available along with applications to join. We are excited to offer this service to the community. Email us if you would like to help us cook! We cook every third Wednesday starting at 5pm, space is limited so email us at least 2 weeks in advance of our next date.
kufarming@gmail.com.
https://www.facebook.com/gr...
http://kustudentfarm.wordpr...