Visit website 808 Massachusetts Street, Lawrence, KS 66044 Opens today at 8:30 a.m.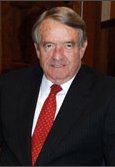 Born: Junction City, Kansas, July 1, 1938; admitted to bar, 1967, Kansas; also admitted to practice before U.S. Court of Appeals, Tenth Circuit; U.S. District Court, District Court of Kansas.
Preparatory Education: Kansas State University, St. Benedicts College (B.S., 1960); Washburn University of Topeka (J.D., 1967). Fraternity: Phi Alpha Delta. Special Attorney, Kansas Insurance Department, 1967-78. Highway Advisory Commission, State of Kansas, 1975-84; Vice-Chairman, 1975-78; Chairman, 1978-80. City Attorney, Liberal, Kansas, 1998-02.
Member: Douglas County and Kansas Bar Associations.
Primary Areas of Practice: - Estate Planning - Oil & Gas - Agricultural & Farming - Probate